2022 - 2023 Scuba Diving Holidays, Liveaboards and Learn to Dive Courses to the Maldives, Red Sea, Canary Islands, Far East, Caribbean and the Pacific.
Whale Shark Video Puerto Galera, Philippines
Article date : Sep 1, 2015
This Whale Shark video was sent to us from Atlantis Resort in Puerto Galera, Philippines taken by guest, Mike Pivak on a recent dive.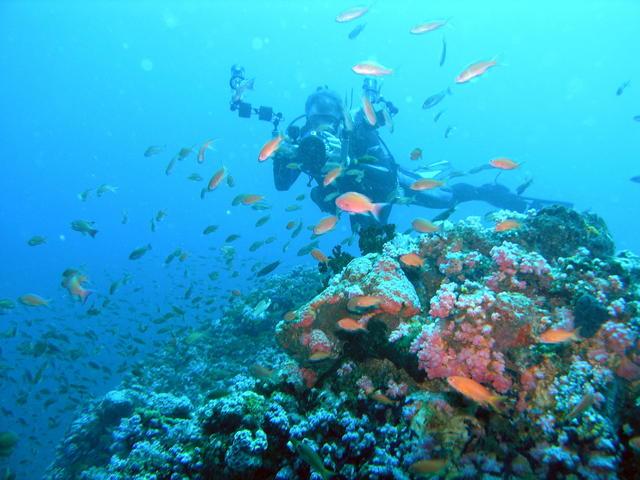 Recent Atlantis Puerto Galera guest Mike Spivak was at the right place, Verde Island, at the right time - Whale Shark time that is - and with a video camera!!
Here is some more information on the whale shark from the dive team at the Atlantis Puerto Galera Dive Resort/ With their own Marine Biologist, Assistant Resort Manager - Marco Inocencio they can offer divers a unique insight into the life and habits of whale sharks.
The name Whale Shark, or Rhincodon typus comes from the fact that this species of shark can grow to be as large as some whale species. As the largest fish in the sea they can reach lengths of 40 feet (12 meters) or more. Fortunately for most sea-dwellers - and us! - their favorite meal is plankton. Swimming close to the water's surface they scoop these tiny plants and animals up, along with any small fish that happen to be around, with their colossal gaping mouths. The whale shark's skin is mostly a grayish color with a white under belly. Their skin is also covered in pale yellow or white spots, which are unique among each whale shark, just like fingerprints are unique to each human. Whale shark females are usually larger than males. How can one tell male and female whale sharks apart? Like other shark species, males have a pair of appendages called claspers, which are used to grasp the female and transfer sperm when mating. Females do not have claspers.

Whale sharks are ovoviviparous - meaning that the female shark lays her eggs internally and carries them until birth occurs (other shark and fish species drop their eggs in the ocean). She may also be able to hold several hundred eggs at a time! Whale shark pups are about 2 feet long when born. Scientists speculate that the female whale shark gives birth to her children over a period of time (meaning the eggs hatch at different times) as opposed to all of the eggs hatching at the same time. Just imagine having to deal with over 200 children all at the same time!
Atlantis Puerto Galera Dive Resort. More Information here >