2022 - 2023 Scuba Diving Holidays, Liveaboards and Learn to Dive Courses to the Maldives, Red Sea, Canary Islands, Far East, Caribbean and the Pacific.
Latin America - Liveaboards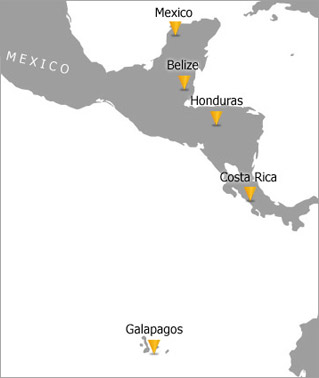 Central and South America offers a wonderful variety of spectacular scuba diving and diving holiday options. Visit the mystical Blue Hole in Belize and the 185 mile long reef second only to the Great Barrier Reef in Austalia. Experience Whale Shark encounters off Utila in the Honduras or dive with the Giant Mantas and Hammerheads off Cocos Islands. The perfect locations for a world class dive holiday.
To get the best out of diving in Latin America we offer a range of luxury liveaboard boats. Providing the highest standards of service, equipment and comfort, you can enjoy carefully planned itineraries. All the yachts are built and powered for comfort, safety and stability with air-conditioned ensuite single and double cabins and luxury facilities including hot tubs, satellite linked media centres and computers. Diving schedules ensure you visit the best diving in each destination with time to explore the cultural sights in the programme.

Honduras Roatan Aggressor Liveaboard - Honduras, Latin America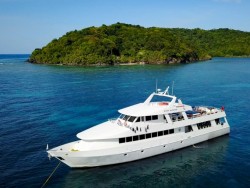 Dive aboard the Honduras Roatan Aggressor liveaboard with itinerary based along the Mesoamerican Barrier Reef System which extends north of the Yucatan Peninsula, Utila and down to the Caribbean coast of Honduras.

Location
The Roatan Aggressor liveaboard departs from the dock at French Harbour which is 7 miles from Roatan International Airport, Honduras.

Accommodation
The liveaboard has 9 cabins that can accommodate up to 18 guests. The cabins are located on the lower deck, with one double bed cabin and eight cabins with twin beds. All the feature a private en-suite bathroom with air-conditioning, individual climate control and a monitor with a media player.

Facilities
The Roatan has a spacious, air conditioned dining area and salon, a shaded wet bar and grill, a lounge, photo centre with a digital video and photo editing computers, lockers and a sundeck with deck chairs and a jacuzzi. The liveaboard is provided on full board basis including breakfast, lunch and dinner. The freshly prepared on board menus include a variety of local seafood, meat and fresh fruits and vegetables.

Diving
All dives are from the Roatan liveboard. The diving includes the sites located on the second largest barrier reef in the world, West End walls, the south and north side shallow reefs and drop offs, wreck of the El Aguila, reef gardens of Cayos Cochinos, shallow peaked Seamounts off the southeast end of Utila, and north and south sides of Utila. Throughout the week there will be opportunities to go ashore for swimming and snorkelling. There are barrel sponges, macro critters, whale sharks, Caribbean reef sharks, bottlenose dolphins, turtles, moral eels, manta rays and much more.


Introducing Our Newest LiveAboard, the Roatan Aggressor from Aggressor Fleet on Vimeo.
Gallery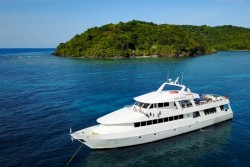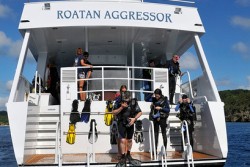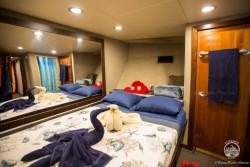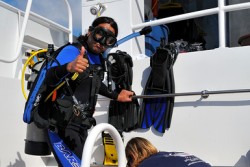 Fact File
Diving Conditions




Suitability:
Beginners

Intermediates

Advanced

Technical

Best Time: Diving year round - summer months are warmest.

Average Air temps: 29°C (high humidity)

Average Water temps: 25-28°C (summer), 24-27°C (winter months, with possible 22°C drop in January). 3-5 mm wetsuit recommended.

Visibility: 5-100m (Jan-June)
Up to 200m (July - December)

Top Dive Sites: Roatan, Utila, Cayos Cochinos and the Sea Mounts, Bay Islands of Honduras.

Great Reasons to Dive in Honduras

Remote sea mounts.
Vibrant marine life and critters.
Wall reefs & huge barrel sponges.
Manta rays, Reef shark, bottle nose dolphins.
Whale shark.
Wrecks.
Turtles, moral eels, Southern sennets