2022 - 2023 Scuba Diving Holidays, Liveaboards and Learn to Dive Courses to the Maldives, Red Sea, Canary Islands, Far East, Caribbean and the Pacific.
Latin America - Liveaboards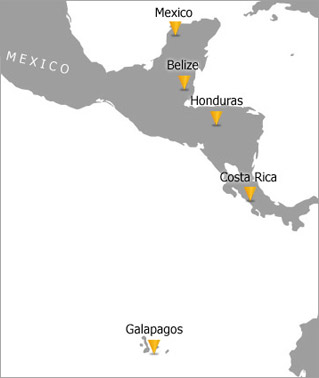 Central and South America offers a wonderful variety of spectacular scuba diving and diving holiday options. Visit the mystical Blue Hole in Belize and the 185 mile long reef second only to the Great Barrier Reef in Austalia. Experience Whale Shark encounters off Utila in the Honduras or dive with the Giant Mantas and Hammerheads off Cocos Islands. The perfect locations for a world class dive holiday.
To get the best out of diving in Latin America we offer a range of luxury liveaboard boats. Providing the highest standards of service, equipment and comfort, you can enjoy carefully planned itineraries. All the yachts are built and powered for comfort, safety and stability with air-conditioned ensuite single and double cabins and luxury facilities including hot tubs, satellite linked media centres and computers. Diving schedules ensure you visit the best diving in each destination with time to explore the cultural sights in the programme.

Belize Aggressor Liveaboard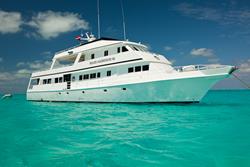 This luxury Belize Liveaboard is a 120ft aluminium yacht build and powered with the best standards in mind. Nine deluxe cabins – doubles and singles with private facilities. Hot tub, sun deck and entertainment onboard. Explore the Atolls of Belize
Cocos Island Aggressor Liveaboard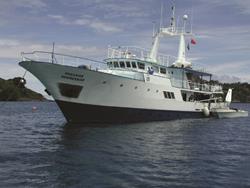 This 110ft Luxury liveaboard escorts 22 divers in comfort, offering access to the lush, green uninhabited island resting 300 miles off Costa Rica's Pacific coast. Rocky pinnacles surrounding the island are beacons for big animals and big action: Schooling hammerheads, countless white-tip sharks, mantas, tuna and even whale sharks are seen in season plus a huge variety of coral, crustaceans, mollusks & fish in this World Heritage site.
Honduras Roatan Aggressor Liveaboard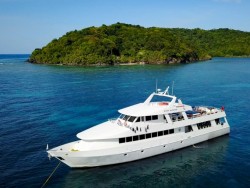 The Roatan Aggressor, based in the Honduras, accommodates 18 guests and has 9 air conditioned double and twin cabins. Explore the second largest barrier reef in the world, wrecks, walls and marine life from the Yucatan Peninsulas, Utila and down to the Caribbean coast.
Socorro Aggressor Liveaboard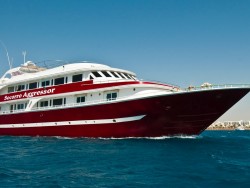 Socorro, San Benedicto and Roca Partida are located in the Pacific, to the south of San Cabo Lucas, Mexico at the tip of the Baja Peninsula.