2022 - 2023 Scuba Diving Holidays, Liveaboards and Learn to Dive Courses to the Maldives, Red Sea, Canary Islands, Far East, Caribbean and the Pacific.
Far East & Australia - Liveaboards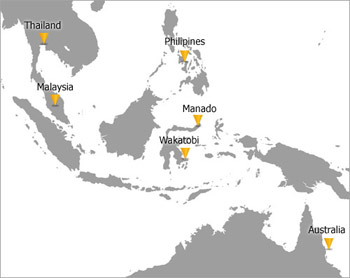 Australia and the Far East is home to some of the world's most exciting and sought after scuba diving and perfect diving holiday locations. Visit sites that haven't changed since the dawn of diving to glide along some of the most picturesque and impressive walls and distant coral seas - dive holidays dreams are made of.
Visit one of the seven wonders of the world – The Great Barrier Reef which runs some 2000 miles along the north western coast of Australia. From here you can explore the Coral Sea, visit the famous Cod Hole and dive with Minke whales. The excellent Mike Ball Liveaboards offer a range of intineraries and you can extend your holiday with a tour of Australia's sites.
Manado and Wakatobi off the north and south east of Sulawesi in Indonesia. Manado's Bunaken Marine park is within 30 minutes of the authentic and unassuming accomodation. Wakatobi offers the best of luxury accommodation & liveaboards. Both are world class diving locations. Photographers will enjoy diving in Lembeh where there are specialist led diving weeks for underwater photographers with excellent quality facilities for your equipment.
Layang, Layang off the coast of Saba is largely unexplored with 50m visibility and famous for hammerheads. This reclaimed 50 acre island offers spectacular wall diving plus giant mantas and morays.
Offering excellent value in the Far East is in the Philippines with some of the best diving in all asia. dive sites. It has the widest choice of dive sites from deep dives, drift dives, wreck sites and many more. Our latest edition to the programme is our choice of liveaboard to Sipadan, Borneo, Raja Ampat and Komodo and the Coral Triangle. See 1000s of schooling pelagics, visit world class muck, reef and wall dive sites - some of the best in the world. Bali and, Thailand ideal for critters, leisurely diving, stunning beaches and perfect for non-divers too.
Australia Great Barrier Reef Liveaboard - Australia, Far East & Australia
For your Australia Liveaboard on the Great Barrier Reef the Mike Ball Spoilsport,offers a 30m luxury catamaran purpose built and powered for comfort, safety and stability.

Location
The liveaboard is based in Cairns. From here there are options for 3, 4, 7 and extended special expeditions trips plus land based beach resort or Australia cultural or city tour extensions.


Accommodation
A maximum of 28 divers in 14 comfortable twin or double cabins each with air-conditioning and ensuite shower & wc (except budget cabins which share). Budget and Club are inside cabins. Standard and Premium are outside cabins with oceanviews.


Facilities
Spacious air-conditioned lounge and saloon, alfresco deck and sundeck. Spoilsport has earned the reputation for sumptuous meals and excellent service. Complimentary soft drinks and Australian wine with dinner.


Diving
Huge dive deck with large camera tables and unique entry/exit platforms. Nitrox and Advanced PADI training onboard.


Expeditions Available
As well as regular expeditions to the spectacular Great Barrier Reef and Coral Sea, Mike Ball Dive Expeditions frequently operates some extraordinary experiences.

Nautilus Expeditions See the ancient Nautilus. Coral Sea Research. 4 and 7 Nights.
Minke Expeditions World's friendliest whale species. 3, 4 and 7 nights. June - July
Far North Exploratory Bougainville; Osprey; Far Northern and Ribbon Reefs. 7 Nights.
Turtle Spectacular World's largest green turtle rookery. 7 Nights.
Shark Shooter Shark photography with Damien Siviero. 4 and 7 Nights.
Yongala and Coral Sea Explorator and Deep Reefs also scheduled during certain times.


Sample Itinerary

It is possible to combine the 4 night Fly Dive Coral Sea expedition with the 3 night Fly Dive Cod Hole expedition, making a fantastic and varied loop. There is no scenic flight included in this itinerary however you can enjoy a few hours exploring Lizard Island mid-expedition.



Coral Sea Safari 7 Nights / 26 Dives

This fabulous 450 mile expedition combines adventure diving in the Coral Sea with superb
Great Barrier Reef marine biodiversity.



Standard Diving Itinerary

Osprey Reef - Coral Sea Big fish action in 40 metre visibility, 2-3 shark attraction dives. Spectacular topography, sheer walls, soft and hard corals.

Ribbon Reefs - Great Barrier Reef A prized region with excellent fish & coral bio-diversity.

Lizard Island Enjoy an hour or two exploring beautiful Lizard Island – white sand beaches and a short hike to Chinaman's Ridge.

Cod Hole Swim with diver size potato cod!

Dive the GBR Joanie's Joy, Clam Beds, Lighthouse Bommie, Pixie Pinnacle, Goggle Gardens, Flare Point, Trolly Shoals, Steve's Bommie.


Sample Schedule

Thursday Check in at the Mike Ball office, Cairns between 8:30 am and 4:00 pm.

From 16:00 pm: Make your own way to Mondos Café, Bar & Grill (200m from MBDE office) to meet your fellow passengers. Please note that dinner is not provided on the first evening so you may wish to eat before boarding.

17:50 pm: The crew will lead you from Mondos to board Spoilsport. Enjoy a glass of champagne and light snacks while your Trip Director provides a full briefing.

18:00 pm: Spoilsport departs Cairns.

Time to organise any rental equipment and put your dive gear together on the dive deck.


Friday (4 dives + night dive)

This is a sample of a 'typical day', however exact times may vary to optimise the prevailing weather conditions on the day.

06:30 am: Wake up call, light breakfast available in dining room

07:00 am: Dive brief & diving commences

09:00 am: Full cooked Breakfast

10:30 am: Dive brief & diving. "Open decks" accommodate 1-2 dives either am or pm

14:00 pm: Lunch

15:30 pm: Dive brief & diving

16:30 pm: Afternoon Tea

18:30 pm: Night dive brief & dive

20:00 pm: Dinner



Saturday (4 dives + night dive)
As above.


Sunday (4 dives)
As above. However all diving is finished by 17:00pm. Spoilsport moors off Lizard Island for the evening.

As the sun sets the champagne is poured, nibbles laid out and everyone gets ready for an Aussie BBQ party night. Don't forget to wear your loudest tropical shirt or dress and sing along to music played by the talented crew.



Monday (2 dives + night dive)

07:00 am: Light breakfast

08:00 am: Bid farewell to passengers doing the 4 night Fly Dive Coral Sea Expedition who will disembark here.

08:00 am: Stay onboard or take a tender over to Lizard Island to stretch your legs and explore a little of this beautiful island.

11:00 am: New passengers join us here. Drinks and light snacks provided.

12:45 pm: Dive brief and dive

14:00 pm: Lunch

15:45 pm: Dive brief and dive

16:45 pm: Afternoon tea

18:00 pm: Dive brief and night dive

20:00 pm: Dinner



Tuesday (4 dives + night dive)
As per Friday, above.


Wednesday (4 dives)
As above. Exit last dive 17:00pm.

As the sun sets we pour the champagne, lay out the nibbles and get ready for a final farewell party!

Overnight cruise to Cairns


Thursday

07:00 am: Light breakfast

08:00 am: Disembark and courtesy transfer to Cairns inner city hotels, the airport or our office where we can store your luggage until 5pm if you have a later flight.

Important: We recommend that you allow 24 hours between your last dive and your onward flight.

Itinerary may vary due to weather conditions and vessel location.

Note: Environmental Management Charge of approx AUS$ 16 per trip payable locally.

A non-refundable deposit of 35% is required at the time of booking.
Gallery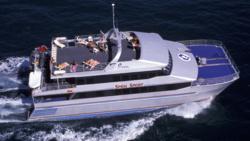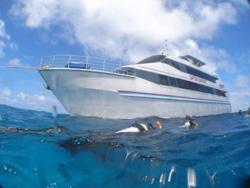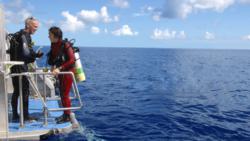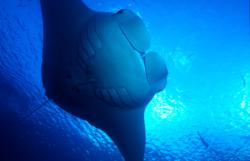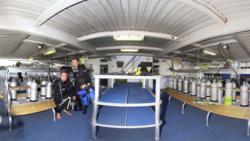 Fact File
Best Time: August-September but good diving all year.

Average Air temps: 24°C (July - Winter) 30°C (Dec/Jan - Summer)

Average Water temps: 22°C (June - Winter) 26°C (March - Summer)

Visibility: Best April-December.

Top Dive Sites: Specific itineraries on the Great Barrier Reef variable by dates.
Cod Hole - 3/4 night liveaboard,
Coral Sea Safari - 7 night liveaboard. Challenger Bay, Cod Wall & Hole, Ribbon Reef, Lizard Island, Cooktown.

Great Reasons to Dive in Austrailia

Great Barrier Reef
Diving and Reseach expeditions
Minke Whales (June/July)
Mantas (Dec-Mar)
Specialist courses onboard.
Onboard photogaphic services and courses.
Specialist Rebreather facilities.
Great White Shark Expeditions.
Minke Whale Expeditions
Extension tours of Australia.