2022 - 2023 Scuba Diving Holidays, Liveaboards and Learn to Dive Courses to the Maldives, Red Sea, Canary Islands, Far East, Caribbean and the Pacific.
Dive with Whale Sharks in Cenderawasih, Indonesia
Article date : Apr 2, 2016
Dive with Whale Sharks aboard the luxury Aggressor Raja Ampat Liveaboard in Cenderawasih Bay and SAVE up to £750 per person. See the video here.

Cenderawasih Bay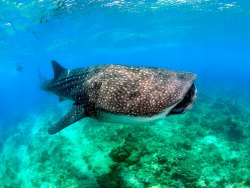 Cenderawasih Bay, located very eastern edge of the Indodesian arcipelago, is one of the most thrilling locations to dive with Whale Sharks. Here you can spend hours with multi whale shark who seem to enjoy divers bubbles swimming into flow and appearing to gulp the bubbles with their mouths. In Cenderawasir Bay, the whale shark staying in one place, sucking on the soft nets of fisherman in the bay. Guest aboard the luxury Aggressor Raja Ampat liveaboard have seen up to 10 at one time. This location also has hundreds of small islands and atols which are home to over 500 coral types with some of the most untouch hard coral gardens and over 900 documented endemic fish species!

Special Offer*
07 day Itinerary 15 - 22 August 2016 SAVE £500 per person
10 day Itinerary 3-13 July 2016 & 24 August - 03 September 2016 SAVE up to £750

*Other special offers and other discounts and promotions do not apply and are not cumulative.




Enquire about this liveaboard >