2022 - 2023 Scuba Diving Holidays, Liveaboards and Learn to Dive Courses to the Maldives, Red Sea, Canary Islands, Far East, Caribbean and the Pacific.
Lembeh (North Sulawesi), Far East & Australia - Dive sites
Lembeh North Sulawesi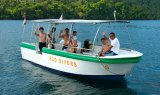 Guide to the dive sites of Lembeh Straights in North Sulawesi
Fact File
Best Time: Year round.

Average Air temps: 26-30°C

Average Water temps: 27-30°C

Visibility: averages 25m.

Top Dive Sites: Choice of over 30 dive sites in the Lembeh Strait - especially recommended Nerana West for branching corals, Nudi Falls a beautiful mini wall dive, Retak Harry & Hairball One for muck diving, California Dreaming, Yiko Yance plus Kapal Inda and Mawali & Bimoli - Japenese WWII wrecks.

Dive Centre >

Great Reasons to Dive in Lembeh (North Sulawesi)


World class macro diving
Specilist centre for Photography and Underwater Videography
Dive both Bunaken National Park and Lembeh Straits
Purpose built resort for divers
Ideal for groups
Variety of diving, gentle to drift, coral gardens, walls, pinnacles, caverns & wrecks.