2020 - 2021 Scuba Diving Holidays, Liveaboards and Learn to Dive Courses to the Maldives, Red Sea, Canary Islands, Far East, Caribbean and the Pacific.
Atlantis Dive Centre - Philippines, Far East & Australia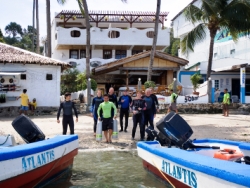 The Atlantis Dive Centre, a 5* PADI Career Development Centre, is based at the Atlantis Dive Resort in Puerto Galera.

Location
Puerto Galera lies on the northern tip of the island of Mindoro, approximately 110km south of Manila. Transfer from Manila Airport is approximately 2 hours to Batangas and then by boat to Puerto Galera (1 hours approx). Private seaplane or helicopter transfers from Manila directly to Puerto Galera are around 40 minutes.


Facilities & Services
The Atlantis Dive Centre prides itself on ensuring excellent standards and first class facilities for you to develop your skills and enjoy the outstanding diving in the Philippines. The majority of PADI courses are offered, ranging from beginner to divemaster and instructor level, and with speciality and technical dive courses also available. Training takes places in the onsite purpose built, training pool. The centre is equipped with 60 individual equipment storage areas, high quality rental equipment, a purpose built training pool and hot water showers. Assistance is giving carry equipment to the dive boats, accessed from the beach front direclty in front of the resort. Multiple compressors for Air, Nitrox and Trimix give the option for a range of divingEvery diver will be provided with a fresh beach towel each day, along with snacks and drinking water.

Underwater Photography Facility
The 17 square meter, climate controlled Camera Room is idea for comfortable, pre-dive housing preparation. The room has 30 individual cubby holes to store equipment with a work surface that is 70cm deep and a total of over 8m long. There are 3 air guns distributed around the room, 18 power sockets (110 & 220 volts), paper towel dispensers for cleaning O-Rings, a shelf running the length of the work surface for battery chargers and six fluorescent wall lights for additional illumination when checking O-Rings. The room also has 2 internet-ready desktop PC's for guests to view their photos after a day's diving.


Diving
There is an outstanding diversity of marine life on offer, with numerous species of fish and coral to see. An emphasis is placed on flexibility, with up to 5 local dives scheduled and available throughout the day, as well as night dives every evening. Diving is varied and takes place in small groups, with over 35 dive sites to choose from and no more than 6 people per boat. Most dive sites are also easily accessible, within 10 minutes of the resort. Day diving excursions to Verde Island and the Hot Springs of Chicken Feather Island are also available. Dive boats are either small canoe style or larger batang fishing boat style for further afield. More >


Dive Courses
PADI Learn to scuba dive courses including Bubblemaker & Skin Diver (for kids 8+ yrs) and junior certification from 10 years +. PADI Courses are available from Open Water Diver and career training to Instructor level with TDI facility with two course directors on the staff. Other courses include Discover Scuba Diving, PADI Scuba Diver, with E learning options to save time in the classroom before you arrive plus, most PADI specialisty courses, Rescue Diver and Divemaster. Atlantis Dive Centre also provides Nitrox, Technical and Rebreather instruction. One to one instruction is available. Snorkelling and free diving classes are available for adults and children.

Classroom Learn in comfort in the newly renovated air-conditioned Classroom. Comfortably seats 6, features include flat screen LCD TV with PC connection, DVD player, PADI library, and wireless internet.
DIVE INSTRUCTION

Price from:
Open Water Dive Course
(including 4 dives, 2-4 days)
£ TBA
Advanced Open Water Dive Course
(including 5 dives, 2-3 days)
£ TBA

Dive Packages
Flexible Dive Options with local Dives at approximately 9:00am, 11:00am, 2:00pm, 4:00pm and 6:00pm with night dives available daily. Dive schedule subject to change locally. Choice of dive site each time where you talk to theguides about where you want to go and what you want to see. Small groups (no more than 6 people). Most dive spots within ten minutes of the resort and private dives are available. Day Trips to Verde Island and the Hot Springs of Chicken Feather Island (Puerto Galera) and Apo Island, Balicasag, Siquijor and Sumilon (Dumaguete).
| | |
| --- | --- |
| BOAT DIVES | Price from: |
| 3 Days (6 boat dives) | £ TBA |
| 5 Days (10 boat dives) | £ TBA |
| Nitrox - addtional to above (1 week) | £ TBA |

GROUP DISCOUNTS Book 10 - Get 1 FREE, Book 20 - Get 2 FREE.*
*Terms: Applies to accommodation in combination with dive packages only.

Gallery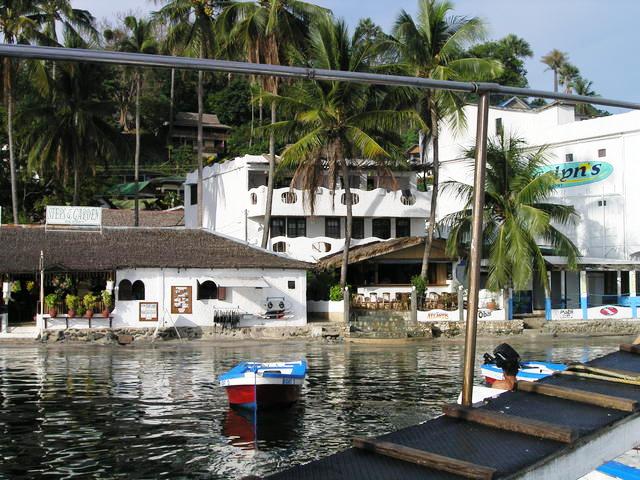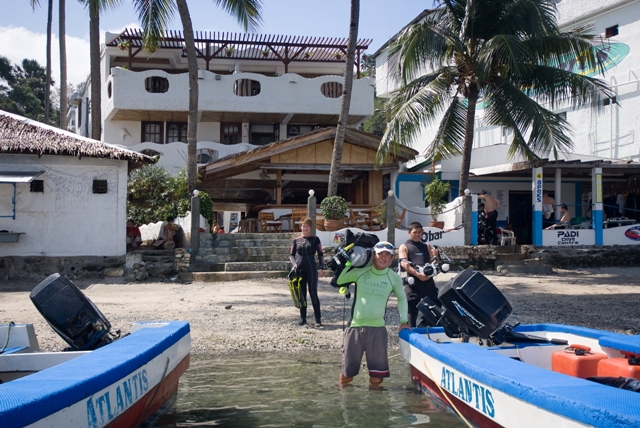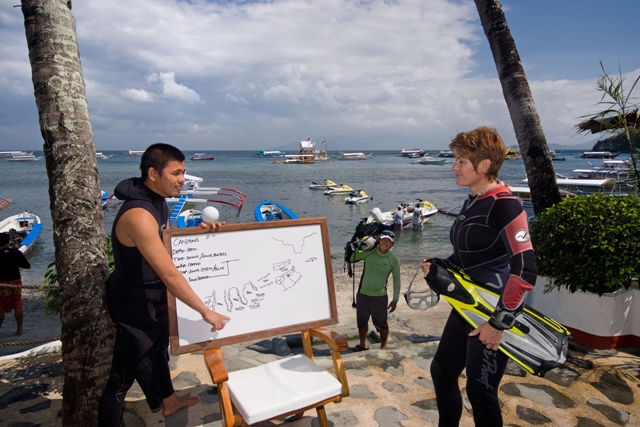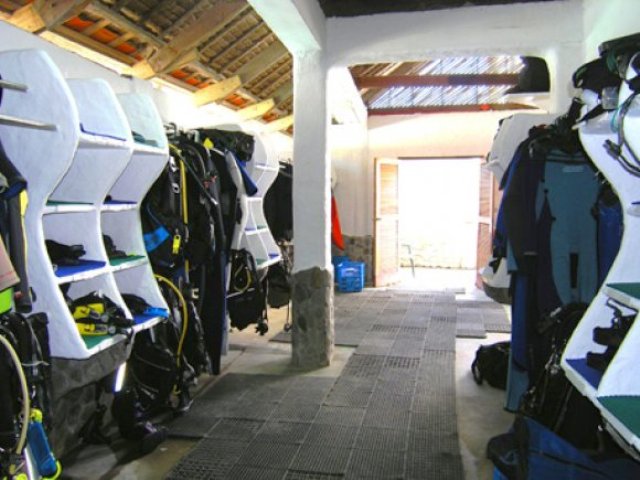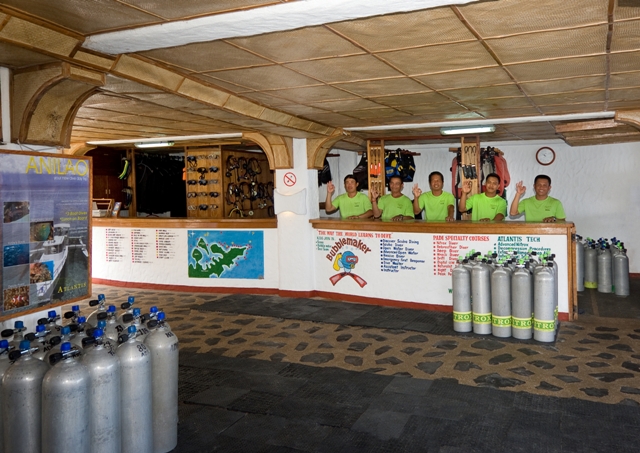 Fact File
Best Time: Year Round (Oct-May - dry season).

Average Air temps: 30°C

Average Water temps: 21-24°C Dec-Feb, 25-30°C Mar-Nov.

Visibility: 15-40m.

Top Dive Sites: Superb drift diving at The Canyons in Puerto Galera, incredible marine diversity at Dauin Norte in Dumaguate, dive with Thresher Sharks at Monad Shoal in Malapascua, and dive the numerous Wrecks of Coron at Sangat Island. More >

Philippines Dive Centres: More >


Great Reasons to Dive in the Philippines

Over 3000 species of fish.
15,000 square miles of reef.
Plenty of dives for new divers.
Drift dives (some 5 knots+)
Numerous critter sites.
Whale shark and Giant Pacific mantas (Feb-May) at Donsol & Reef shark
Nesting & hatching turtles.
Photographers heaven.
Wrecks of Coron 'Mini Truk'
Thresher Shark diving in Malapascua.