2020 - 2021 Scuba Diving Holidays, Liveaboards and Learn to Dive Courses to the Maldives, Red Sea, Canary Islands, Far East, Caribbean and the Pacific.
Marigot Bay Dive Centre - St Lucia, Caribbean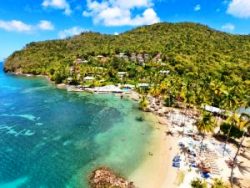 Operating in St Lucia since 1992, the Marigot Bay dive centre is a PADI certified centre owned and operated by a St Lucian environmentalist with over 20 years' experience in marine research. Located in Marigot Bay, on the western coast of St Lucia, the centre offers excellent diving and a variety of courses and facilities to suit a range of abilities.

Location
Tucked away up in an inlet on St Lucia's western coast, the dive centre is within easy reach of all the prime dive sites, only 15 minutes away from the western sites and 45 minutes to the southern sites, all in a protected marine reserve.

Facilities
The Marigot Bay dive centre operates 2 custom built, spacious dive boats (a 47ft Burpee and a 39ft Sea Hawk), both with an on-board wash room and shower facilities. The boats are built with plenty of fresh water and shade to protect you from the Caribbean sun, and an easy entry and exit facility. Great emphasis is put on dive education and safety, and the crew pride themselves on offering a highly personalised service. A wide range of PADI certification courses are available with flexible study options to fit around your plans.

Diving
The dive centre is in a prime location half way up St Lucia's west coast, in easy reach of some of the most stunning St Lucia dive sites, including Anse Chastenet Reef, Turtle Reef and Pinnacles. Here you'll see a huge variety of marine life including trumpet fish, goat fish, filefish, pillar coral and barrel sponges. If you're lucky, you may even spot a turtle or two plus pristine and diverse coral reefs, steep walls, pinnacles and shipwrecks.

You can visit shipwrecks in Anse Cochon, wall and or drift dive in Soufriere, night dive or simply beach dive, from Anse Cochon or Anse Chastenet, where the reef starts just 10 yards beyond the water's edge unusual tropical marine life in 20 to 140 feet of calm, clear water. The reef is home to more than 150 different species of fish. In the shallow areas keep your eyes open for peacock flounders, octopus, needle fish and turtles. Or drop down a little deeper over dense coral growth to see puffers, moray eels, parrot fish, lobsters and even sea horses. All sites to visit are found in marine reserve areas stretching from Anse Cochon to Soufriere along the sheltered west coast of the island. Dives carried out in these areas are supervised by staff dive masters and or instructors. This is a government implemented policy to aid in diver safety and environmental awareness. Notwithstanding this, dive freedom is exercised and encouraged by the dive staff, and St Lucia's underwater beauty can be explored in the intimacy of small groups, with a ratio of just three divers to one instructor.
There is also excellent snorkeling available, with plenty to see in the warm, clear waters of Marigot Bay, including groupers, parrot fish and even the occasional seahorse. Water taxi trips are also available to some of St Lucia's best snorkeling spots.
Marine Park Passes are required for certified, non-certified divers and snorkellers.from the second day of diving. The fee is $13.50 EC per day ($5 US) or $40.50 EC (US$ 15) for an annual pass (plus tax). This fee is used to support the marine park and protect the marine habitat.


Dive Courses
The following courses are available booked in advance of arrival: PADI Discover Scuba Diving Course, PADI Open Water Certification Course, PADI Advanced Open Water Certification Course, PADI Open Water Referral Course and PADI Specialty Courses including Wreck Diver, Drift Diver, Naturalist, Night Diver, Boat Diver, Underwater Navigation, Deep Diver and Rescue Diver. PADI Bubble Maker is available for children aged 8-11.
DIVE INSTRUCTION
Prices
from
PADI Open Water
£399
Referral PADI OW
£219
Advanced PADI OW
£279

Dive Packages
All dive packages include boat dives with guide and tank/weights, and cover the marine park fees. Supplement applicable for hiring gear.
DIVE PACKAGES
Price
from
6 single tank boat dives
£205
10 single tank boat dives

£315
Fact File
Best Time: November to June

Average Air temps: 30°C

Average Water temps: 26-28°C (78-82°F)

Visibility: 5-100m (Jan-June)
Up to 200m (July - December)

Top Dive Sites: Anse Chastenet, Anse Le Raye, Fairy Land, Coral Gardens (at the base of Gros Piton), Superman's flight, a drift dive in the shadow of the Petit Piton, Jalousie under the Gros Piton, Piton Wall, the wreck of the "Lesleen M", Anse La Raye and Anse Cochon, Turtle Reef, the Pinnacles.

Great Reasons to Dive in St Lucia


Anse Chastenet Protected Marine Reserve
Ideal for learn to dive
Shallow coral spurs easily acessible for shore diving
Lesleen M wreck
Superb luxury resorts
Multi sport hotel options
Beautiful landscape with great eco & activiy excursion programmes