2018 Scuba Diving Holidays, Maldives Diving Holiday, Red Sea Diving Holidays, Liveaboards and Learn to Dive Holidays from Sportif Dive
Safaga Dive Sites - Safaga, Red Sea and Middle East
Like many of the Red Sea dive resorts, Safaga offers outstanding diving but is less busy than more popular resorts of Sharm El Sheik or Hurghada.Most of the diving is accessed on by boat with daily trips available to the offshore reefs. The offshore reefs, fed by the passing currents, offer a myriad of colours and corals with wide variety of fish life with juveniles barracuda, puffers, trigger fish, stingray and grouper.

Recommended dive sites
Superb Wall diving and offshore reefs.

Learning to Dive
Choice of several sheltered reefs around 30 minutes from shore, perfect for beginners and the less experienced.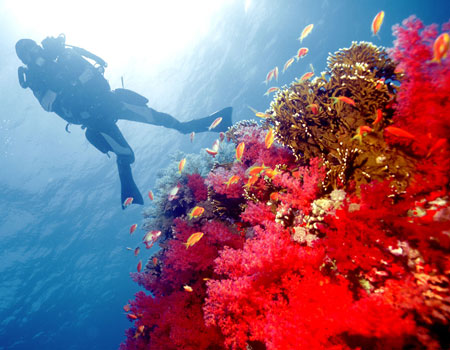 Beginers can dive the Seven Pinnacles and Tobia Reefs.

Tobia Arbaa Locally known as the 7 Pillars, these small pinnacles are set near Tobia island aresset on a sandy bottom and offer an easily accessible, shallow dive. Although visibility can sometimes not be as good as other sites, the abundant soft corals, gorgonians and marine life such as octopus, moray eels, giant pufferfish, lionfish, blue spotted rays, sergeant majors and nudibranches make this an easy and enjoyable dive for all including snorkellers.

More Experienced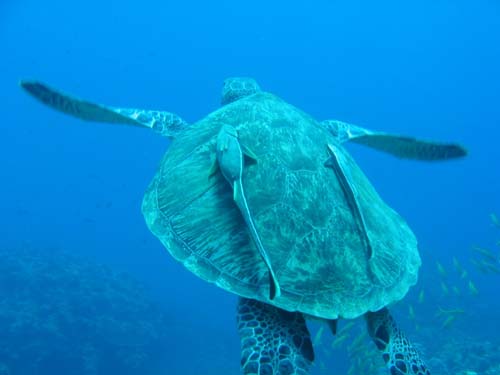 3 diving areas of: Panorama, Middle Reef and Abu Kafan.
Each diving area offers a choice thrilling drift sites with huge coral formations, sheer walls dropping to over 200m in the case of Panorama reef area, overhangs, brain corals, highly colourful hard corals and beautiful soft corals with many black corals and gorgonians. See a variety of reef life from turtles and schooling fish to reef sharks.

Panorama Reef This is one of the biggest reefs in Safaga. Explore the many small caves and overhangs, with colourful soft corals and Gorgonians are home to numerous marine life. There are several dive sites, some with strong current, with drop offs in the west. Suitable for the more experienced diver.

Abu Qifan 300m long, this narrow reef plateau is famous for hammerhead sitings in spring time and mantas in the winter off the northern and southern tips.

Wrecks
One of the signature dives is the Salem Express wreck. As over 300 perished many visit to pay their respects for those lost at sea.