2019 - 2020 Scuba Diving Holidays, Liveaboards and Learn to Dive Courses to the Maldives, Red Sea, Canary Islands, Far East, Caribbean and the Pacific.
Latin America - Liveaboards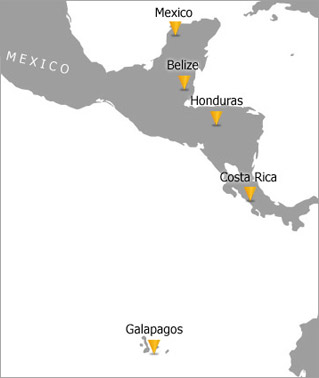 Central and South America offers a wonderful variety of spectacular scuba diving and diving holiday options. Visit the mystical Blue Hole in Belize and the 185 mile long reef second only to the Great Barrier Reef in Austalia. Experience Whale Shark encounters off Utila in the Honduras or dive with the Giant Mantas and Hammerheads off Cocos Islands. The perfect locations for a world class dive holiday.
To get the best out of diving in Latin America we offer a range of luxury liveaboard boats. Providing the highest standards of service, equipment and comfort, you can enjoy carefully planned itineraries. All the yachts are built and powered for comfort, safety and stability with air-conditioned ensuite single and double cabins and luxury facilities including hot tubs, satellite linked media centres and computers. Diving schedules ensure you visit the best diving in each destination with time to explore the cultural sights in the programme.

Belize Sun Dancer II Liveaboard - Belize, Latin America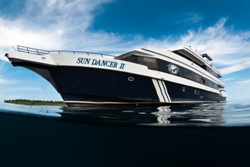 For your diving & liveaboard holiday to Belize in the Caribbean, the Sun Dancer II is a luxury 138ft aluminum yacht built and powered for comfort, safety and stabiility whilst being ideal for diving the best dive sites in Belize. Belize is known as a wall diver's paradise with huge crimson gorgonian and giant ear sponges plus morays, spiny lobsters and tiny crabs hiding in every crack, crevice, cave and tunnels of these beautiful coral formations.

Location
Sun Dancer II casts off from the Radisson Ft. George dock.

Accommodation
Eight deluxe staterooms and two Master Staterooms, each two Twin Beds, one King bed or one Queen bed, private WC and shower, portlight views, entertainment Center with TV/DVD, mirrored cabinet, wardrobe, bathrobes, hairdryer, toiletries, fresh towels daily, independent air-conditioning.

Facilities
Air-conditioned salon with entertainment centre, galley, dining room, sun deck with wet bar, hot tub and deck chairs. Computer with email access via satellite. Onboard safety equipment including defibrillator and D.A.N. oxygen system. Photo lab.

Diving
Large well designed dive deck with divers own personal dive station with seat and locker. Air/nitrox fills.

Miami (1 night), Liveaboard (7 nights) Sample Itinerary:

Sat Depart London for Belize City. Transfer to Belize Sun Dancer II at Radisson Ft. George dock. At approx 18:00hrs the vessel departs for its first anchorage while the onboard chef serves a delicious dinner. Afterwards, the Captain gives a detailed welcome aboard and safety briefing.

Sun - Fri Dive briefing. Diving begins Sunday morning and ends Friday before lunch when the Sun Dancer II returns to port. Sunday through Thursday there is unlimited diving throughout the day. All dives are conveniently made from the mothership. While you are diving, the chef prepares delicious snacks and scrumptious meals, served on schedule. Night dives are offered throughout the week, conditions permitting.

Enjoy a week of diving at outstanding sites such as Lighthouse Reef, Half Moon Cay and the famous Blue Hole. The mystical Blue Hole, a collapsed freshwater cave system is approximately 1000 feet across and over 400 feet deep. The Blue Hole was made famous by ocean pioneer Jacques-Yves Cousteau who declared it one of the Top Ten Dive Sites in the World. In 1971, he brought his ship, the Calypso, to the Blue Hole to chart its depths. Once descended into the Blue Hole guests will see beautiful vertical stalactite formations.

Fri Diving ends at approx 13:00hrs. The Belize Aggressor returns to Belize City.
Tours are offered on Friday afternoon, such as Cave Tubing, Belize Zoo or Mayan Ruin which are arranged locally at an additional cost but an extended stay is recommended to fully enjoy the wonders of Belize.

The Captain and crew host an evening cocktail party at 18:00hrs. Since dinner is not served onboard this evening, the crew will arrange transportation to a local restaurant.

Sat Checkout time is 08:00hrs. Guests may enjoy the Radisson Ft. George Hotel pool facilit and bar area on Saturday free of charge until they depart for their return flight.

Sun Arrive London

Itinerary may vary due to weather conditions.
Note. Belize airport departure tax US$35 and Port fee US$95 payable locally.
A non-refundable deposit of 35% is required at the time of booking. Final balance due 15 weeks prior to departure.
Fact File
Best Time: Year round (Aug - Oct hurricane season).

Average Air temps: 23-27°C (74-80°F) Oct-Mar, 25-35°C (78-95°F) Sept-Apr

Average Water temps: 26°C (80°F)

Visibility: 20-30m (up to 60m on outer atols).

Top Dive Sites: The Blue Hole (300m diameter), Lighthouse Reef, Turneffe and Glover coral rings, The Elbow drop off (Turneffe Atoll), Gadden Spit (feeding Whale Shark), Wrecks - Myron L & HMS Advice.

Great Reasons to Dive in Belize

185m long Barrier Reef with 7 world heritage reserves
Sheer walls & blue holes
Submerged caves & deep diving
World Class coral reef rings
Tarpon, massive grouper, barracuda, turtles & schooling jacks
Rays, sharks, dolphins and Orca Whales.
Photographer - critters, seagrass & mangroves.
Mayan Culture.