2020 - 2021 Scuba Diving Holidays, Liveaboards and Learn to Dive Courses to the Maldives, Red Sea, Canary Islands, Far East, Caribbean and the Pacific.
Galapagos Islands, Micronesia and Pacific - Liveaboards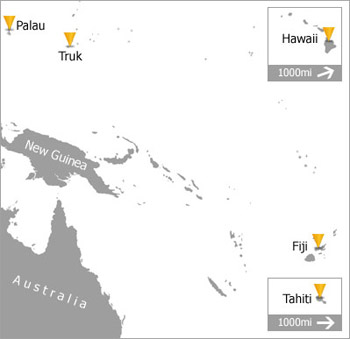 Choose a scuba diving holiday to Micronesia and the Pacific which offers adventures for those wanting an exploratory and exotic diving holiday. Meet unique and rare marine creatures and dive sites of unsurpassed beauty that will leave memories for a lifetime. Dive holidays in Micronesia are famous for the chance to see World War II wrecks.
Palau, made up of 300 mostly unihabited islands that look like 'mushrooms'. From caves to soft corals, mantas to giant shoals, sharks and 1500 variety of fish. This is a truly special destination.
Truk Lagoon famously has hundreds of World War II japanese wrecks lying in 35m water almost intact. Historically facinating and an excellent twin centre trip with Palau.
Explore the magic of Fiji and Hawaii aboard a luxury liveaboard or enjoy the pure escapism on the paradise island of Bora Bora in your own water villa. For a once in a lifetime trip visit the Galapagos, Darwin and Wolf Islands.

Galapagos Aggressor Liveaboard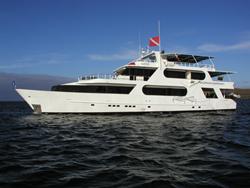 Dive the Galapagos aboard a luxury liveaboard offers much including a wide range of animal and marine inhabitants. Thrilling shark dives at remote Wolf and Darwin Islands. Beginner divers may find Galapagos diving a little too challenging and no night diving is offered. For those who love challenging diving this is the place.
Fact File
Best Time: Year round.

Average Air temps: 21-30°C
Warm season (Jan-June) Dry season (July-Dec).

Average Water temps: 16-24°C (June-Nov), 21-30°C (Dec-May)

Visibility: 5-100m (Jan-June)
Up to 200m (July - December)

Top Dive Sites: Santa Cruz Island, Punta Carrion, Bartolome Punta, Wolf Island, Darwin Island, Cabo Douglas, Fernandina Island. Punta Vicent Roca, Isabela Island. Cousin Rocks, Cabo Marshall, Isabela Island.

Great Reasons to Dive in the Galapagos

Unique species
Luxury liveaboard - cruise in comfort.
Large pelagics - hammerheads, mantas, eagle rays (Dec-May).
Whale shark (June-Nov)
Seals & turtle
Land excursions to see the giant turtle and iguanas.