2018 Scuba Diving Holidays, Maldives Diving Holiday, Red Sea Diving Holidays, Liveaboards and Learn to Dive Holidays from Sportif Dive
Puerto Galera Dive Centre - Philippines, Far East & Australia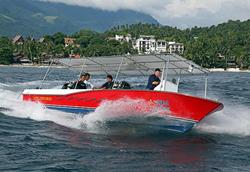 The Puerto Galera Dive Centre established over 27 years ago, offer scuba diving to suit all ability levels with a choice of over 30 sites all within 15 minutes travel from the El Galleon Dive Resort's own jetty with dive sites suitable for all experience levels. Up to 5 dives, 7 days a week, in small groups, PADI instruction onsite - it couldn't be more convenient. Up to 4 daily boat dives plus night nights on offer and the convenience of a large dive platform and jetty, all faciliities are spacious and to hand.


Location
Located at the El Galleon Dive Resort, Puerta Galera on the north west of the island of Mindoro in the Philippines.


Facilities and Services
The centre has it's own diving platform with a large pontoon. Local Bangka boats carry up to six people and a guide on each trip. Asia Divers also operates two speedboats, making a day trip to Verde Island simple and quick.Boats can easily dock on the pontoon making it easy for our guests to get on and off the boats. Each diver has his/her own crate in the dive shop to store their gear. There is a dedicated camera room and rinse tank specifically for cameras. The dive shop is very spacious, so even when the shop is busy you never feel crowded and attentive dive crew who are always there to help you with anything you may need. All the convenience of a live-aboard but all the attraction and flexibility of being land based.


Diving
The Puerto Galera Dive Centre offers scuba diving to suit all ability levels with a choice of over 30 sites all within 15 minutes travel; it couldn't be more convenient. There are usually five scheduled dives a day, 7 days a week approximately at 8:00, 10:30, 13:30, 16:00 and 18:00 (night dive). Diving is usually in small groups (six or less) from local Bangka (outrigger) boats and two speed boats. All dives are guided by experienced Instructors or Divemasters and planned using the Recreational Dive Planner and or your dive computer. You must produce a log book and certification card before diving. Day trips (Verde Island & Hot Springs) can be arranged at short notice. More >


Dive Courses
PADI Learn to scuba dive courses including Bubblemaker & Skin Diver (for kids 8+ yrs) and PADI Open Water Diver up to Instructor level. Other courses include Discover Scuba Diving, PADI Scuba Diver, with E learning options to save time in the classroom before you arrive plus National Geographic Course, Rescue Diver and Divemaster courses. Asia Divers also provides Nitrox, Technical and Rebreather instruction with one of the best technical diving support services available in Asia. The first CDC centre in Asia, you can qualify as an instructor here..
DIVE INSTRUCTION

Prices from
Open Water Dive Course
(including 4 dives, 2-4 days)
£399
Advanced Open Water Dive Course
(including 5 dives, 2-3 days)
£300


Dive Packages
Specially discounted accommodation and dive packages are offered with Unlimited day diving is up to 4 day dives per day and does not include night diving including tanks, weights, boat, and guide.

BO

AT DIVES

Prices from
3 Days (6 boat dives)
£155
5 Days (10 boat dives)
£260
Nitrox - addtional to above (1 week)*
£50

* For Enrinched Air/Nitrox qualified divers.

GROUP DISCOUNTS FREE Dive Package - Book 9 get 10th FREE**.

Please note: **FREE place does not apply to transfers, Marine Park Fees or incidentals.


Gallery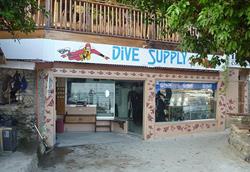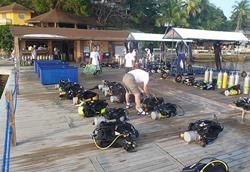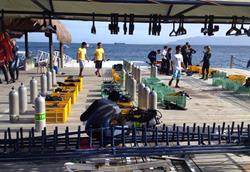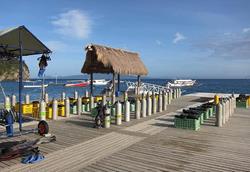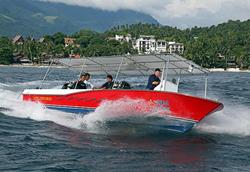 Fact File
Best Time: Year Round (Oct-May - dry season).

Average Air temps: 30°C

Average Water temps: 21-24°C Dec-Feb, 25-30°C Mar-Nov.

Visibility: 15-40m.

Top Dive Sites: Superb drift diving at The Canyons in Puerto Galera, incredible marine diversity at Dauin Norte in Dumaguate, dive with Thresher Sharks at Monad Shoal in Malapascua, and dive the numerous Wrecks of Coron at Sangat Island. More >

Philippines Dive Centres: More >


Great Reasons to Dive in the Philippines

Over 3000 species of fish.
15,000 square miles of reef.
Plenty of dives for new divers.
Drift dives (some 5 knots+)
Numerous critter sites.
Whale shark and Giant Pacific mantas (Feb-May) at Donsol & Reef shark
Nesting & hatching turtles.
Photographers heaven.
Wrecks of Coron 'Mini Truk'
Thresher Shark diving in Malapascua.