2020 - 2021 Scuba Diving Holidays, Liveaboards and Learn to Dive Courses to the Maldives, Red Sea, Canary Islands, Far East, Caribbean and the Pacific.
Puerto Galera Dive Sites - Philippines, Far East & Australia
Puerto Galera - Philippines
Puerto Galera, known as the Pearl of Mindoro, is approximately 160 kilometres/99 miles from Manila. Situated on Mindoro Island, it offers at least 40 prime dive sites. Mindoro Island is separated from Luzon by the Verde Island Passage, which is flushed by the current from the South China Sea. The resulting strong current (up to six knots) makes this a prime drift dive location. The marine life here is spectacular and dive sites are easily accessible by land. Drift dive along the breathtaking walls, explore the swim-through or just marvel at the schools of snapper, emperors, eagle rays, barracudas, turtles, tuna and the occasional shark. In Puerto Galera there is something for every diver, from novice to advanced.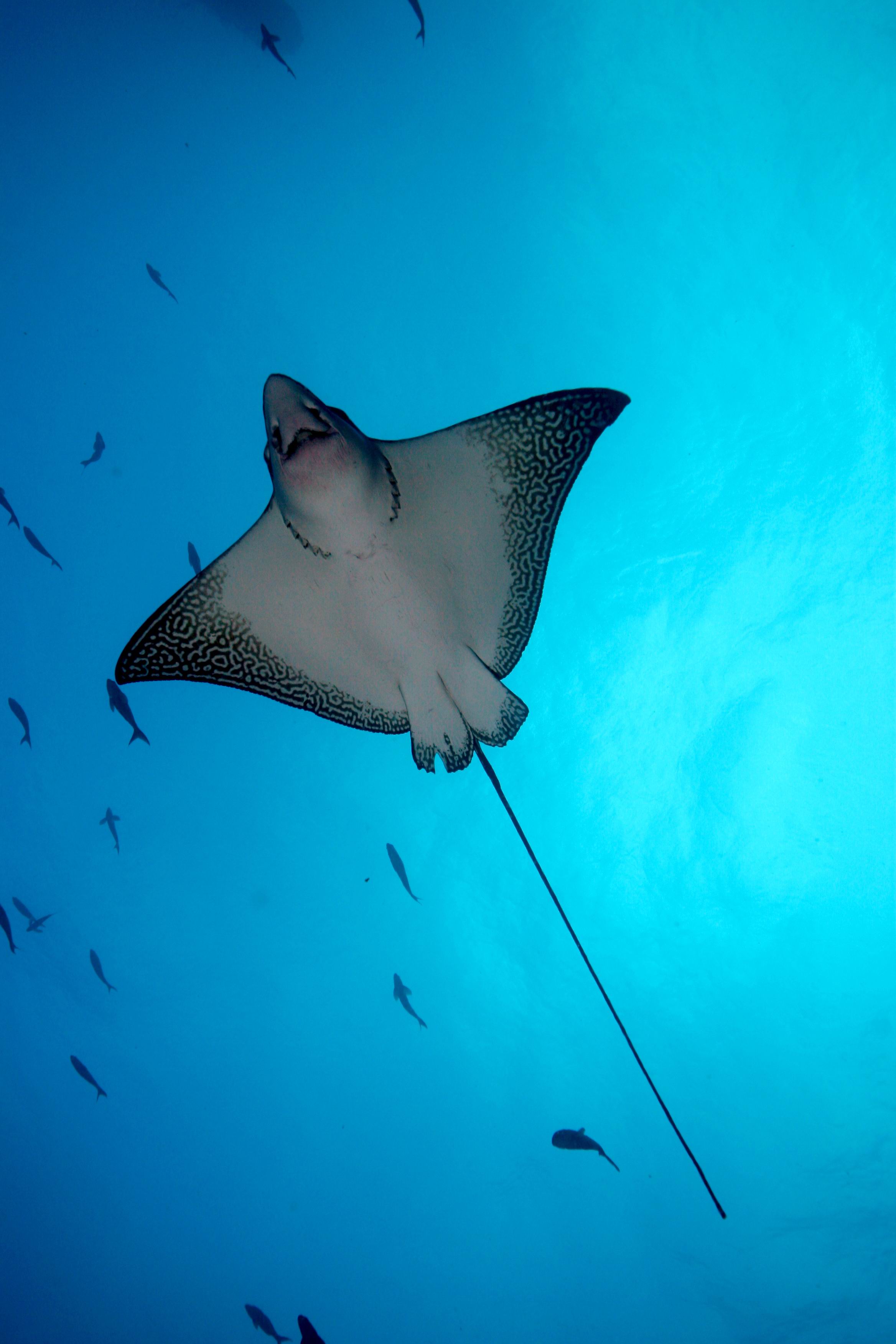 The most famous dive site is Canyons, a world class drift dive, regularly championed as "the dive" to do in Puerto Galera as an experienced diver with a taste for the fast and furious. Allow the current to take you deeper along the slope and you will reach an area where mother nature has formed three spectacular canyons in the reef. The canyons all have sheltering walls and sandy bottoms, where you can kneel down and rest – and watch the big fish fighting in the current above your head. Try to stay for a while and admire the variety of schooling fish. Inside the canyons you'll find octopus, scorpionfish, sea snakes and other reef fish. Canyons is also the one dive site where larger pelagics are sometimes spotted: Manta rays, thresher sharks and hammerhead sharks have all been seen here. Changing every time you experience it, Canyons can be a gorgeous dive for photographers on a slack tide, whereas on strong ebb it will thrill even the most experienced of divers. Best done with nitrox, the dive ends with a blue water ascent and safety stop. By the time you exit you'll find you have drifted far off into the ocean, so ensure you stay with and behind your guide at all times.
Other Dive sites include:
ODIE'S WALL - Depth: 42m / 138ft
Travel Time: 15 minutes
After descending to around 25m, you will come to a rocky wall gently sloping down to about 42 m. The face of the wall is covered with abundant large gorgonian sea fans in colours varying from bright orange to deep purple. Numerous small holes and cracks along the wall are homes to thousands of bright turquoise red tooth triggerfish, with only their fork shaped tails showing. The wall is teeming with life; many different nudibranchs crawl over the rocks, there are often giant frogfish sitting on one of the many sponges, and you may be able to spot mantis shrimps concealed in the crevices. On top of the wall grow very large black coral trees, unseen at other locations in Puerto Galera, and you are likely to spot butterflyfish and hawkfish hiding here. Octopus and cuttlefish are also very common here, as are schools of moorish idols and razorfish and even emperor angelfish if you are lucky. If the current isn't too strong, you may finish the dive by slowly finning towards shore, swimming past a flat landscape with fire urchins and the occasional barrel sponge until you finally reach the shallower reefs. It's a long swim though! This is an excellent dive on nitrox.

ERNIE'S POINT Depth: 27m / 89ft
Travel Time: 5 minutes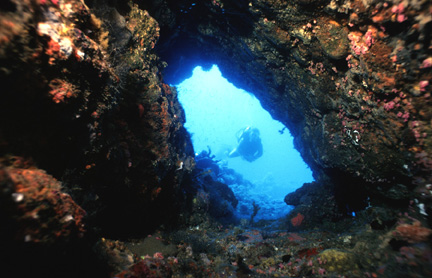 Ernie's Point owes its name to Ernie's cave, a small cavern at 21m once inhabited by Ernie the grouper. Ernie moved out many years ago but the dive site has kept its name. The tiny cave is at the bottom of a large rocky outcrop, adorned with sea fans and often visited by smaller groupers. Look for tube shaped holes around the mouth of the cave; large mantis shrimps often build their nests here. Deeper, at 27m, lies another small cave with an abundance of marine life surrounding it. None of the caves are large enough to penetrate, but the frequent visits of schools of trevally and mackerel are sure to keep you entertained. This dive is better suited to the more experienced diver as during big tidal changes, strong cross currents (eddys) often happen here, and it is possible to get stuck in a very small area between conflicting currents.
MANILA CHANNEL Depth: 23m / 75ft
Travel Time: 10 minutes
The dive starts at a shallow 5m, on a beautiful reef with an abundance of stony hard coral and schooling small fish. Wherever you look there will be thousands of antheas, butterfly fish and sargent majors staring back at you. The reef slopes off to a sandy bottom at about 18m, and the current will help you drift into the channel as you follow the contour of the reef. This site can also be dived from the opposite direction on an ebbing tide. As you move past a couple of small walls, covered in the famous "potato coral", you may spot a few large groupers – although they are very well camouflaged! The walls are also full of green tree corals and large purple gorgonian sea fans. If you leave the walls and venture out in the channel, you will be rewarded with sights of enormous barrel sponges and long whip corals. These often are home to commensal shrimps, although you will have to look closely to spot them. There are also a couple of overhangs, where you can often find giant frogfish, mantis shrimp and nudibranchs. As you reach the sandy bottom, keep an eye out for the rare flamboyant variety of cuttlefish swimming over the abundant fire urchins and mushroom corals.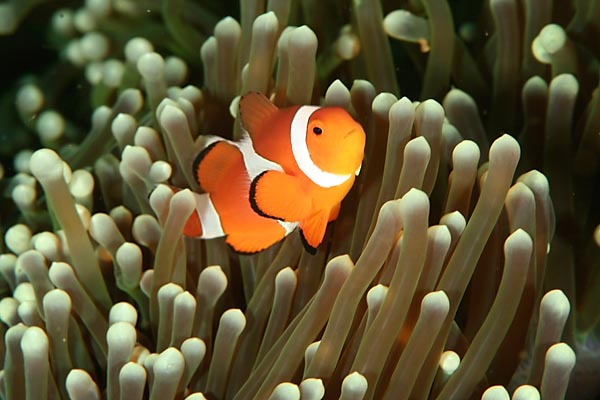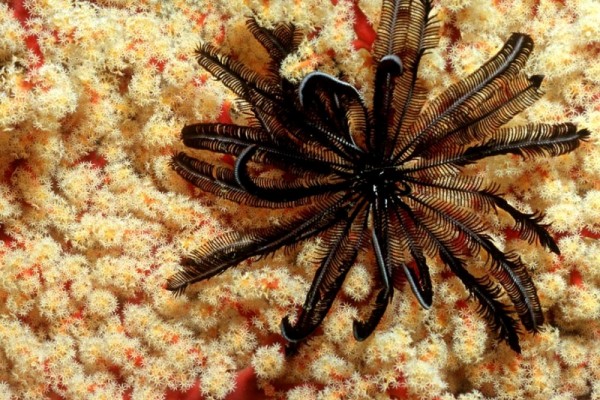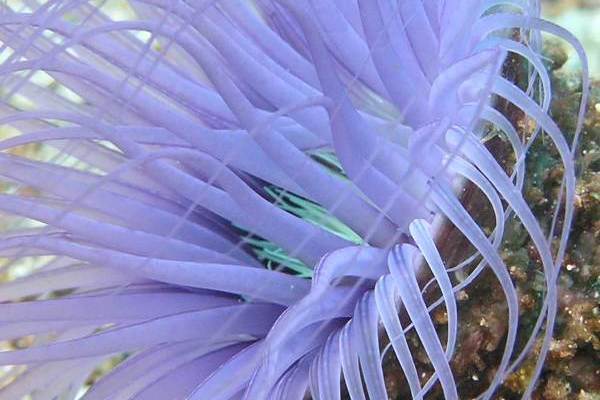 DUNGON WALL Depth: 30m / 98ft
Travel Time: 6 minutes
From a beautiful hard and soft coral slope, you'll reach a pretty wall starting at 12m and continuing down to 25m. The wall has plenty of cracks and crevices with lionfish, scorpionfish and porcupine fish hiding in them. The wall is also famous for its assortment of nudibranchs and flatworms. Also look around for moray eels: white eyed, clouded, many of them stay in this area. During the colder months, a big barracuda has often been seen resting close by. Continue deeper and you will encounter the wreck of an old sailing catamaran, with ringed pipefish, lionfish, puffer fish and more hiding inside the two hulls.
CORAL GARDEN Depth: 15m / 49ft
Travel Time: 10 minutes
Coral Garden makes for a great dive for snorkelers and photographers alike, with large coral heads scattered on a white sandy bottom at a shallow depth of only 10m. Between the coral heads, giant plate corals, staghorn corals and barrel sponges, there are also many soft corals, abundant with reef fish such as parrotfish, butterfly fish and large schools of sergeant majors. If you look under the outcroppings or closer in the sand you will spot gobies, lizard fish, scorpionfish, and the occasional grouper. It is important to check the tide table before you go – depending on the current this can be a very easy dive or an exhilarating drift!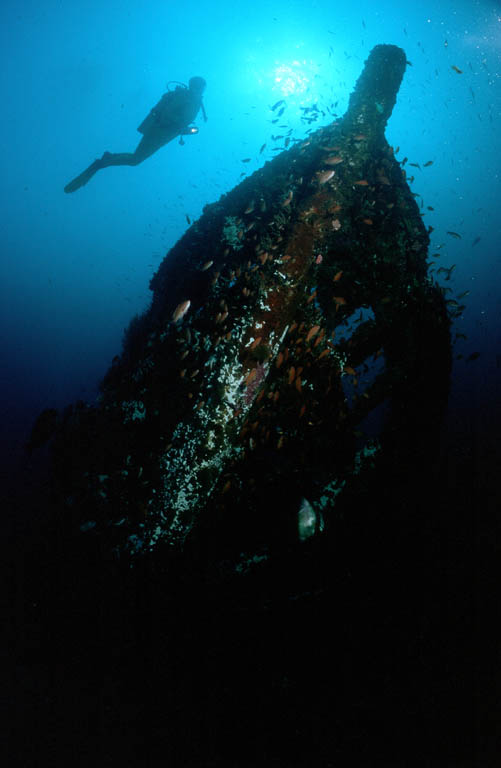 WRECK POINT Depth: 20m / 66ft
Travel Time: 6 minutes
The name of this site is derived from the large ship that sunk here in a typhoon many years ago. It is still visible from the surface, and rests in only a metre of water. The shallow parts of the bay are magnificent, as the majestic table corals spread to catch the sun's rays. Amongst them you may spot many of the often overlooked smaller fish, such as the spectacled hawkfish, standing guard with their brilliant marks around their eyes, and the neon damsel fish, coloured in an incredible iridescent blue rarely seen in nature. This dive is straightforward, but the currents can get strong so be prepared for a beautiful ride along the coral slope.
BATANGAS CHANNEL Depth: 15m / 49ft
Travel Time: 7 minutes
On the right tide, the Batangas Channel is an excellent and shallow drift dive. The site has many unusual coral and sponge formations in a variety of colours, a strange lunar landscape of twisted shapes and undulating plains. Some rock formations, adorned with mushroom shaped green tree corals, are likely to hide a wonderful assortment of critters. The dive is best done on an ebbing tide, where you drop in from the mouth of the channel and then drift gently parallel to the shore.
WEST ESCARCEO Depth: 25m / 82ft
Travel Time: 5 minutes
Depending on the current, this site can be an exhilarating drift dive or a laidback cruise along a slope teeming with fish, with superb photo opportunities. The healthy sloping reef starts at around 5m, and turns to sand at a depth of 25m, where blue spotted stingrays are commonly seen. The deeper areas sport long whip corals and many red toot trigger fish hiding in the cracks and crevices .West Escarceo also has an unusual abundance of scorpionfish and octopus, both with excellent camouflage skills so keep an eye out! Large puffer fish are always seen here, and big groupers are often spotted. Schools become more common here as you get closer to Escarceo point with stronger currents, so expect to see big mouth mackerels, juvenile tunas, trevally and emperor fish here.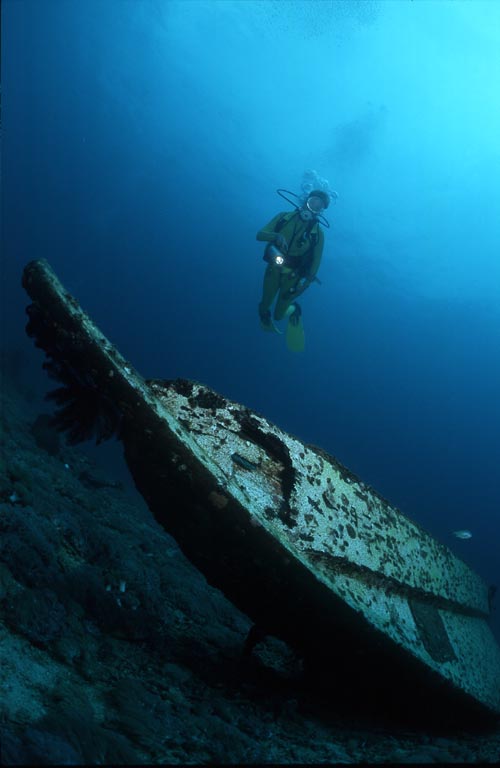 SHIP YARD Depth: 18m / 60ft
Travel Time: 10 minutes
A very special muck dive. As you descend you come across the wreckage of many wooden Bangka boats scrapped in front of the ship yard. There is plenty to see here but the main attraction is elsewhere. Heading out over the seemingly barren sand, you will start to notice life everywhere. There is an incredible variety of species to see in the muck including the Thorny seahorse, Mimic Octopus, Wonderpus, Flying Gurnards, Sea Moths, Solar Powered Nudibranchs and more. The Ship Yard has also witnessed some real rarities in its short history such as Ambon and Rhinopias Scorpion fish, Bobbitt Worms and Gurnard lion Fish. Due to the area the site is located in visibility can drop dramatically but with a well trained guide at your side, this is a dive not to be missed.
HOLE IN THE WALL Depth: 15m / 49ft
Travel Time: 7 minutes
Situated on Escarceo Point, the actual hole in the wall is a short tunnel at 12m through a mini mountain that constitutes the dividing range between ebb and tide. This makes for a very beautiful – and sometimes exciting – dive. As is common in an area where currents meet, you can expect lots of schooling fish: Drummers, sweetlips, travellies and snappers. The occasional pair of giant travelly can be seen hovering high above the rocky outcropping. Good buoyancy is key here as the featherlike hydroids growing on the walls will sting. The top of the wall is covered in soft coral attracting numerous colourful fish – octopus, sea snakes and turtles can also appear here. On the other side lies another wall, definitely worth exploring if the current allows it. Covered in soft coral, sponges and fans, it is the hiding place for many morays and puffers and it drops off into a flat, lunar like landscape with entire gardens of whip corals, swaying in the current. This is usually a very straightforward dive, suitable for novices (with good buoyancy control). However, on strong floods the current can be strong so ensure you stay close to your guide and to the bottom!
THE HILL Depth: 15m / 49.2ft
Travel Time: 10 minutes
Lying in only 5m of water, The Hill is covered with lush fields of soft coral, and slopes down in all directions to a maximum of 15m. Here, a sandy bottom scattered with hard coral takes over and is a proper treasure chest for finding unusual critters, including the shy but beautiful mandarin fish. They come out of their home in the fire coral around dusk to play, or if you're lucky, to mate. Blue ringed octopus and flamboyant cuttlefish have also been sighted here, as well as giant cuttlefish and lots of moray eels.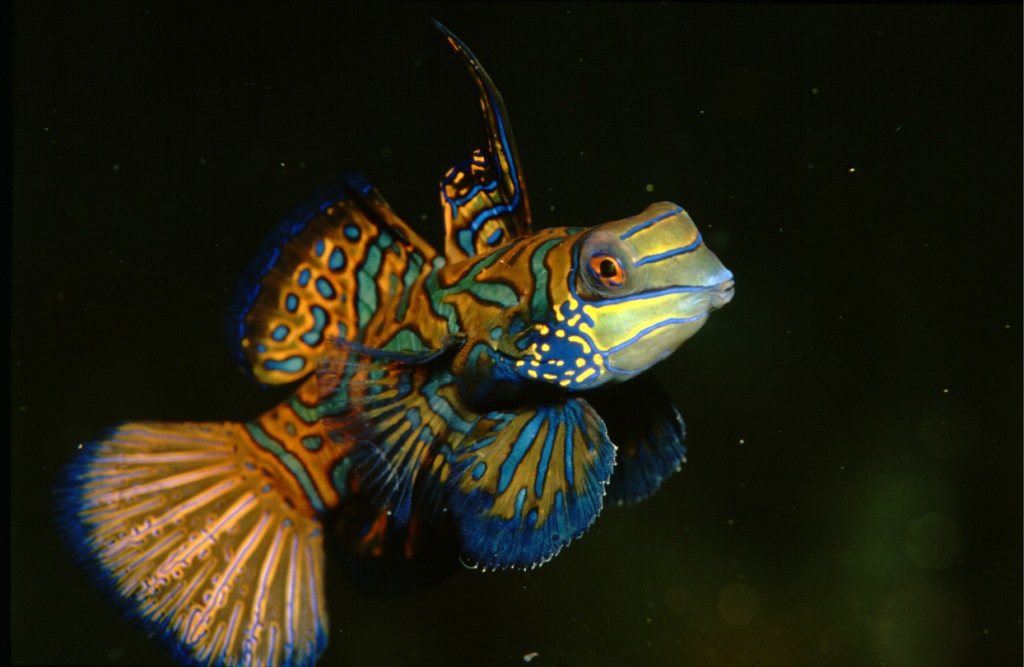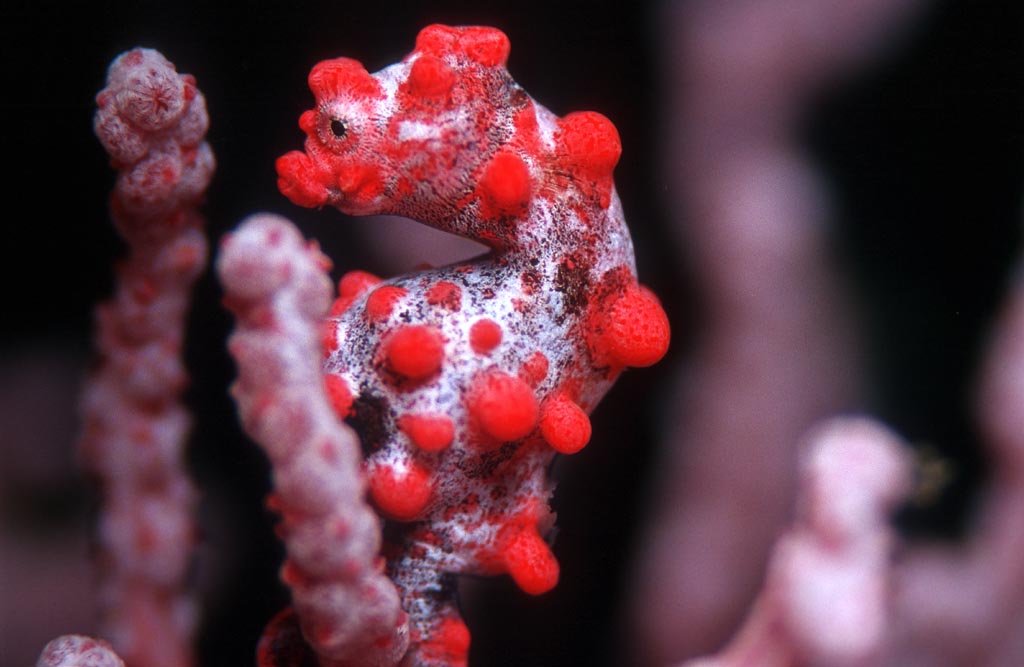 DRY DOCK Depth: 30m / 98ft
Travel Time: 5 minutes
The Dry Dock is a large steel and plywood construction, originally designed to lift small boats out of the water. It was sunk in 1998 to create a man-made reef and soon became hugely popular amongst the local marine life. Today, completely covered in coral and colourful sea fans, it has become the home of larger reef fish such as sweetlips, batfish, surgeonfish, groupers and snappers. The construction lies adjacent to a small coral reef ridge, where octopus, pygmy sea horses and anemone fish colonies can be found. Due to the tough currents that can often sweep through, the Dry Dock is not a dive for the beginner. It is however a great dive for nitrox.

Verde Island:
Located just an hour by boat north-east of Puerto Galera, Verde Island is an easily accessible dive destination offering great macro life. Day trips to Verde Island can often be arranged at short notice. Currents can be strong so is best suited to more experienced divers. See below for the highlights: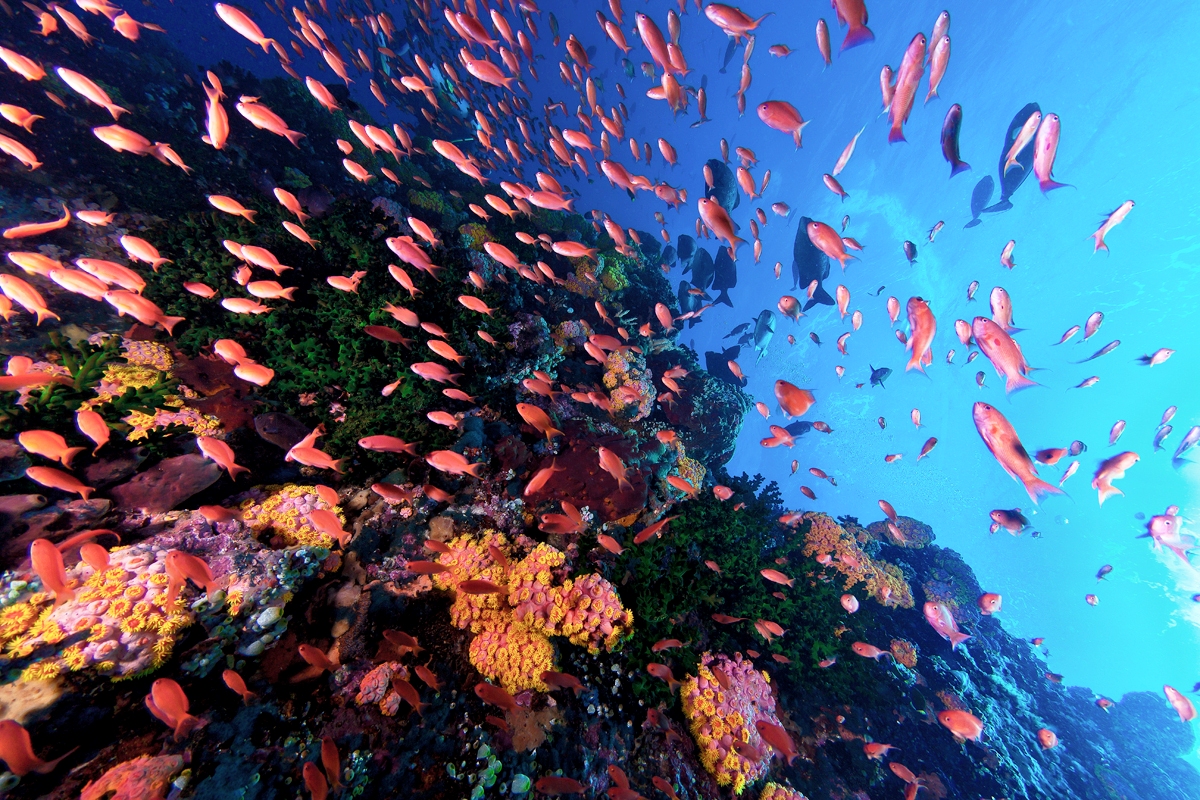 THE DROP OFF Depth: 60m/200ft
Arguably the best dive site Verde Island has to offer, the Drop Off consists of an underwater mountain just breaking the surface off the south-eastern tip of Verde Island. The most frequently dived spot here is The Wall which is around 77m at its deepest and gradually slopes upwards from this point. The view here is spectacular, giving the impression of looking straight up the side of a building. There is often a strong current running, with strong down currents, so only attempt this dive if you are experienced with drift diving. The reward is an abundance of marine life; at recreational depths (shallower than 40m) the coral life is particularly rich with beautiful gorgonian fans, black coral trees, sea whips and large barrel sponges housing sea snakes, frogfish, blue triggerfish and some larger pelagic schools. The most common species found here however is the brightly coloured anthia fish, with thousands calling the wall their home. If you look closely you're likely to see nudibranchs hiding amongst the corals. Look out for the volcanic bubbles rising through the corals at the safety stop.

WASHING MACHINE Depth: 15m/50ft
An adrenaline-charged dive made over a series of seven shallow gullies with the current taking your bubbles in all directions, and throwing you around. Requires some experience of drift diving. It is also possible to dive this site at slack tide, where it is far easier and turns into a gorgeous canyon reef dive with excellent photo opportunities.
BLACKFISH CORNER Depth: Up to 66m/220ft
A nice reef dive for recreational and technical divers alike. At recreational depths you'll be surrounded by many of red-toothed triggerfish dancing amongst the corals. Batfish, lionfish, nudibranchs and jacks can also be spotted here.