2022 - 2023 Scuba Diving Holidays, Liveaboards and Learn to Dive Courses to the Maldives, Red Sea, Canary Islands, Far East, Caribbean and the Pacific.
Sunset House Dive Centre - Cayman Islands, Caribbean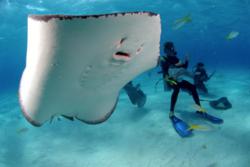 This dedicated dive centre and resort is located at the Sunset House Dive Resort on Grand Cayman walking distance to the capital of Georgtown. Offering dive and accommodation included packages, with easy access to offshore reefs and wreck diving plus onsite Cathy Church photography centre, sociable bar and restaurant.

Location
The dive centre is located within the grounds of the Sunset Dive Resort, a short walk from Grand Caymand capital city, Georgetown.

Facilities and Services
The centre has 6 custom dive boats, 2 freshwater gear rinse tanks and body rinse tank (shower) next to each of the gear tanks, which are on the path up to the resort and right beside the upper lockers clock to the dive shop. Free lockers are available for you to store any equipment, although a cash deposit is required. The centre maintains a full fleet of Scubapro rental equipment.

Photography
There is also a specialist photographic service which is home to the world famous Cathy Church's underwater photo centre and gallery. Famous the world over for her outstanding photographic work, you are able to take a course with Cathy or one of her experienced staff and use the full photographic service to view your photos. A full range of photographic equipment and accessories are available to purchase in the shop in the hotel.

Diving
There is a super house reef, accessible from the the shore, along with wall and wreck diving and dive sites for all type of diver and some for snorkellers. Dive sites are chosen for the best conditions so there are possibilities or diving the west and south sites at certain times. The visibility can often be over 100 feet and there is a great variety of marine life and a spectacular 9' bronze statue of a mermaid or the wreck of the David Nicholson. Around half a mile to the south is Smith's cove which is a protected limestone cove and beach with great coral head formations and small tropical fish. A popular dive site is Stingray City along with night boat dives to the wreck of Balboa. The centre also has 2 shore dive locations which have a large amount of marine life and a deep wall which is only 10 minutes off shore.


Dive Courses
The centre operates morning 2 tank dives leaving from the slipway on the property. Unlimited shore diving is included with all dive packages. There is a choice of multi agency instructors to assist you with your diving programme. Kid's diving programmes are available from ages 8 and above. The centre offers a range of courses from beginner through to advanced and specialist courses including Discover scuba, Underwater Naturalist, Night Diver, Deep Diver, Undwater Navigator, Nitrox, Performance Bouyancy, Rescue Divers, Wreck Diver, Emergency First Responder, Fish ID, Dive Master e-learning, Digital Photographer.
DIVE INSTRUCTION

Prices
from

PADI Open Water

£205
Advanced PADI OW
£175
Please note: e-Learning fees are additional and are paid direct to PADI.

Dive Packages
Daily boat trips are 2 tank dives, 100% computer profile and 2 x 1 hrs dives. This allows you to have the chance to see the pristine North walls and reef of Grand Cayman. Both morning and afternoon 2-tank trips are available. Stingray City trips run several times a week. All boat diving packages include UNLIMITED shore diving on the day of check in and on booked boat diving days. There are shore diving dates that are exclusive to residents of Sunset House Resort. It is possible to make up to 5 dives a day including a night dive.
DIVE PACKAGES

Prices
from
Daily boat diving
POA
Shore diving
POA

Gallery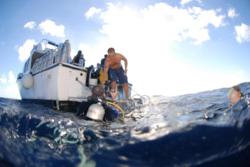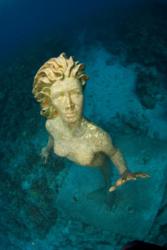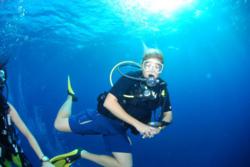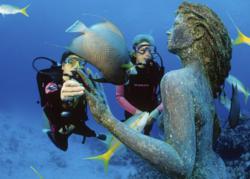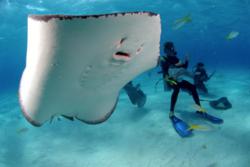 Fact File
Best Time: November - April (Dry season), May - October (Wet season)

Average Air temps: 24-30°C

Average Water temps: 26-28°C Recommended - 3mm shortie/full suit.

Visibility: 5-100m (Jan-June)
Up to 200m (July - December)

Top Dive Sites: Stingray City - Grand Cayman, Bloody Bay Wall - Little Cayman. Wrecks USS Kittiwake, Balboa & Oro Verde - Grand Cayman, San Miguel - Little Cayman, Captain Keith Tibbets - Cayman Brac. Spectacular wall dives. North Wall .

Great Reasons to Dive in the Cayman Islands


World class, year round diving.
Twin centre diving with Cayman Brac & Little Cayman.
Outstanding visibility.
Sheltered, calm easy access dives - photographers heaven.
Excellent snorkelling trips.
Marine Parks plan since 1986 ensuring regulated dive sites.
281 single & double mooring to control numbers of dive boats.