2020 - 2021 Scuba Diving Holidays, Liveaboards and Learn to Dive Courses to the Maldives, Red Sea, Canary Islands, Far East, Caribbean and the Pacific.
Dumaguete Dive Sites - Philippines, Far East & Australia
Dumaguete - Philippines
Dumaguete is situated on the south-eastern tip of Negros Island, and offers well over 30 superb dive sites, many of which are accessible by shore entry. Diving has placed the city on the map for the international traveller, but the majority of dive centres and resorts are based in the coastal town of Dauin, 15km south of the city. It is here that most land based diving takes place, with day trips to the nearby islands of Apo and Siquijor also available. Dumaguete is a paradise for underwater photographers and macro enthusiasts alike, with a superb variety of rare marine life and pristine coral reefs. With a mixture of shallow shore diving and deeper drift dives, Dumaguete offers something for every diver from novice to advanced. See below for an insight into the diving on offer:
Dauin: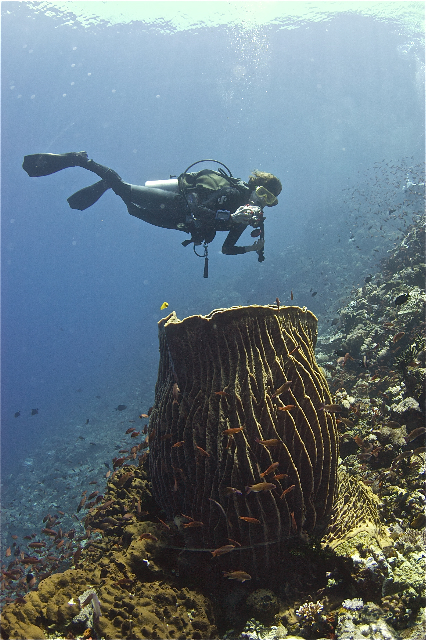 The most popular dive site in Dumaguete is Dauin Norte – and once you've dived it you'll understand why. The dive begins on a sandy slope with a mooring block, home to ghost pipefish, frogfish, different species of shrimps and crabs, nudibranchs and much more. The reef itself is very healthy and hosts lots of different reef fish and invertebrates, including some hairy squat lobsters living on a barrel sponge. A school of yellowtail barracuda patrol the reef, damselfish swim in and out of the branching corals, and even discarded bottles have been turned into homes by the tiny golden gobies. On the edge of the reef you can sometimes find leaf scorpionfish hiding amongst the staghorn and lettuce corals, plus occasionally blue-ringed octopus are seen in this area. There are also regular sightings of both green & hawksbill turtles. The adjoining site, Dauin Sur, starts on a rich sandy slope and ends in a beautiful reef. If you catch the current running in the right direction, this can make for an enjoyable drift all the way through to Dauin Norte. However, most of the time there is little to no current, resulting in a very relaxing experience where you can see a variety of marine life, including an uncountable number of garden eels living in the sand at the base of the reef. Occasionally giant barracuda and dogtooth tuna can be seen swimming by in the blue.
The Atlantis House Reef is located right out front of the Atlantis Resort Dumaguete and is home to some amazing marine life. It has sea grass beds in the shallows where you can see schools of razorfish and quite regularly a resident green turtle happily feeding on the sea grass. The sandy areas are home to many shrimp gobies and razor wrasse and there is also the possibility of seeing different kinds of ghost pipefish here. It is also the most popular night dive in Dauin with various different Crustaceans coming out to hunt, and the super-rare hairy octopus has been even spotted a few times. This is where the Dumaguete Dive Centre team conduct their 'psychedelic' Fluro Night Dive Experience – not to be missed!

Mainit, meaning hot in the local language, is an exhilarating drift dive with yellow patches of sand that are hot to touch, due to the nearby thermal hot springs. The sloping patchy reef can have some strong currents and has a school of sizeable barracudas patrolling. Keep an eye out for snake eels and stingrays in the sandy areas.

Spot the often-unnoticed flasher wrasse at Masaplod Norte. These little fish are quite entertaining to watch, as the males will be swimming around in an erratic fast forward-like motion, showing off their extremely brightly coloured fins to the females in their harem. This is interspersed with them having to chase off any other males that have encroached into their territory. You can spend most of your dive sitting at 18m watching this spectacle or, if you are a photographer, spend your dive getting frustrated trying to get an image of these 'very-hard-to-photograph' fish!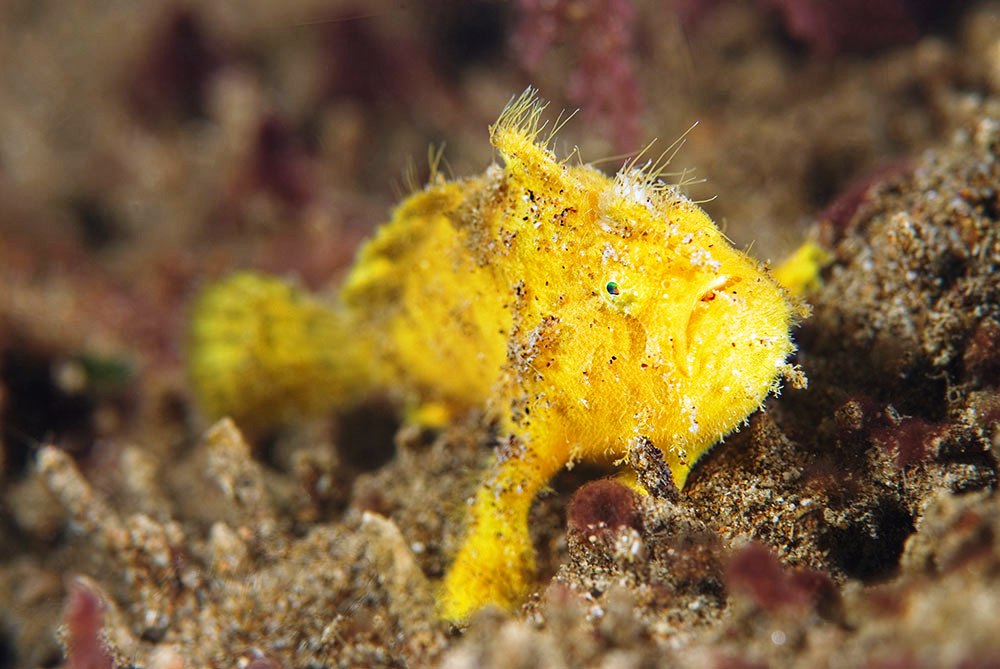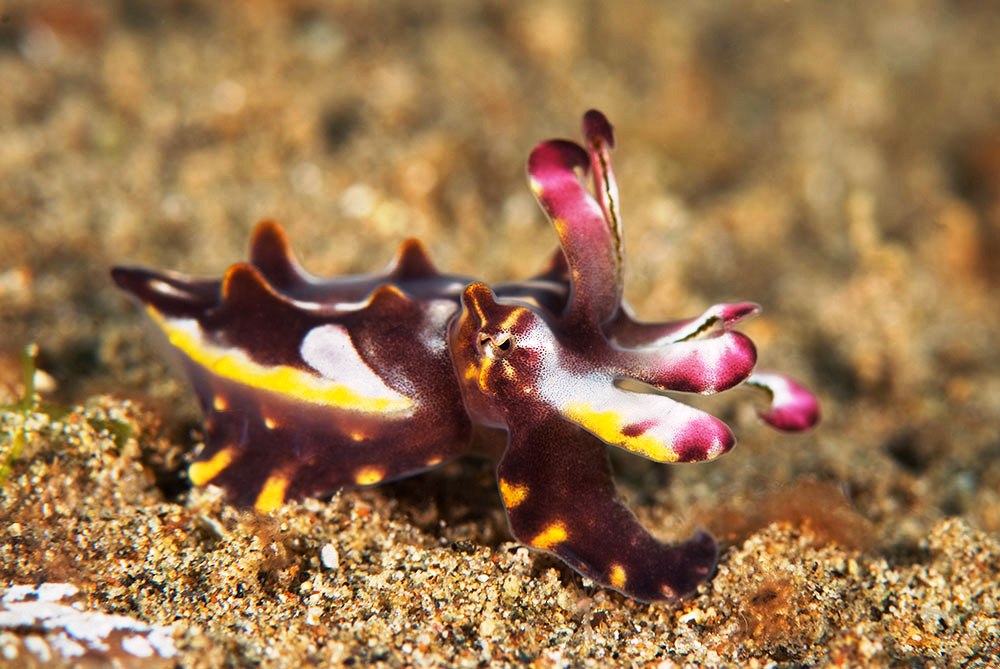 At San Miguel Tyres, a bunch of old car tyres have blossomed into a haven for marine life, and as a result is a favourite with macro enthusiasts. The dive begins on a sandy slope that can seem bare at first but upon closer inspection you'll see lots of weird and wonderful critters. The tyres are now covered in corals and sponges and house an abundance of marine life. You can commonly see frogfish, cuttlefish, pygmy squid, nudibranchs, scorpionfish, lionfish, moray eels and all sorts of crabs and shrimps here. Special critters such as flamboyant cuttlefish, mimic octopus, ambon scorpionfish and striated (hairy) frogfish can also occasionally be spotted. This site is also great for night dives where nocturnal stargazers can regularly be found submerged in the sand, and an extremely rare bumblebee shrimp has even been seen on the tyres! San Miguel North is a great macro site nearby, and with sea grass beds in the shallows and a sandy slope at a gentle gradient, you can do long dives without the worry of your NDL's getting low. juvenile frogfish smaller than your little fingernail can be found in the muck; beautifully patterned ornate ghost pipefish live with their host crinoid; spiney devilfish bury themselves in the sand with just their eyes protruding; a variety of nudibranchs crawl around the sand looking for food; and pygmy squid no more than 1cm in length can be found if you search carefully.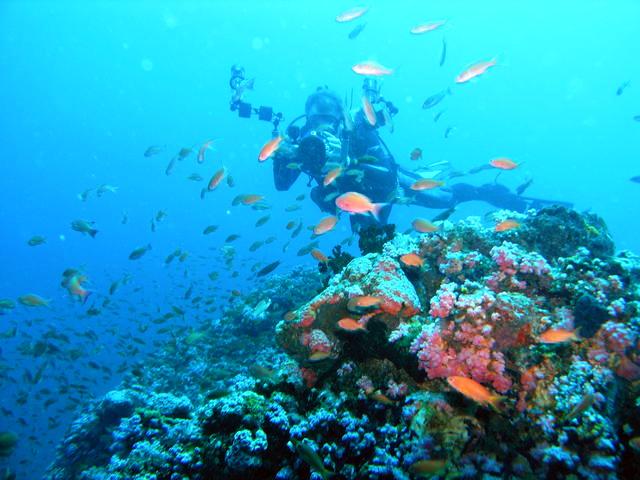 San Miguel Tyres is not the only site in Dumaguete characterised by artificial objects. At Cars, the main attraction is two car wrecks that lay in about 30m of water. Well, that is if you actually make it that far, as there are so many critters to distract you on the swim there! The wrecks have lots of fish that live around them like schools of snappers, big common lionfish, sweetlips and angelfish. They are also home to good population of ringtail cardinalfish. But pay extra attention to this unassuming little fish, as at certain times of the month the males will be performing parental duties by incubating a clutch of eggs in their mouth. When the time comes to surface you will head up the sandy slope where many weird and wonderful critters live. Look out for ornate, robust and velvet ghost pipefish, devil scorpionfish, tiny juvenile frogfish, flamboyant cuttlefish, sand divers and dragonettes to name a few!

A shallower version of this site is Shallow Cars, another great muck dive where you can spend the whole dive in just 5m of water! As with most of the dive sites in the Dauin area, the sand or 'muck' is home to numerous spectacular little critters. You will see many of the same species seen at Cars, but it is an especially good site to witness the courtship display of the threadfin sand diver, where the males display their colourful pectoral and elongated dorsal fins to entice a female mate.

The Pyramids site has something for everybody. You normally start the dive from the shallow mooring line that brings you down into the Sea Grass beds at around 5m, then swim down the sandy slope to the artificial reef made from a number of metal pyramid-like structures that stretch down between 15-22m. Down a bit deeper are some black corals where you can find banded tozeuma shrimps and xeno crabs. To the north of the 'Pyramids' the topography turns to patchy reef where you can find all sorts of critters. Harlequin shrimps have been spotted quite a few times on this site, as well as soft coral crabs, donald duck Shrimps, thorney seahorses, both giant and painted frogfish and many different species of nudibranchs.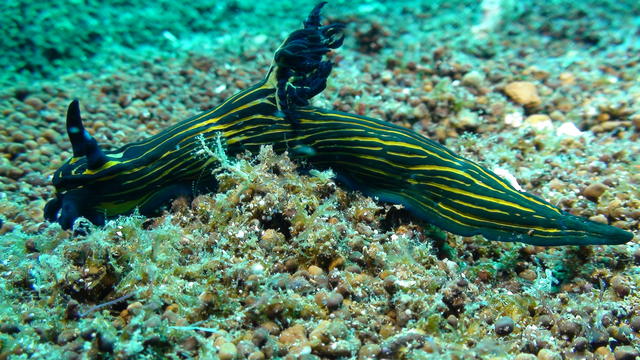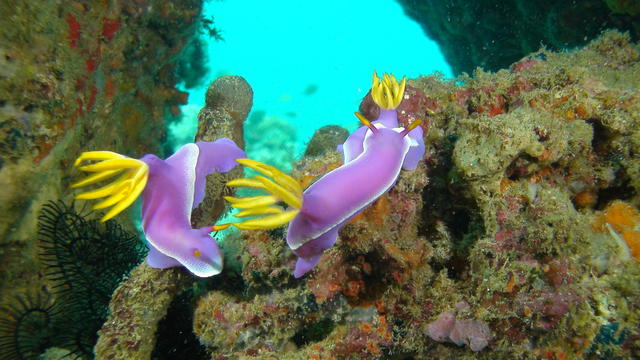 Apo Island:
The volcanic Apo Island is located off the south-eastern tip of Negros Island, approximately 25km south of Dumaguete, and around a 50 minute boat journey away depending on wind and surface conditions. The marine habitat surrounding the island is a protected reserve, and as a result life below the surface is blossoming, hosting a wide variety of superb dive sites.

The volcanic nature of Apo Island is evident in sites such as Largahan, a very diverse site with hard coral formations separated by dark volcanic sand, ledges with deep undercuts, a fair-sized wall, and a soft coral garden in the shallows. The nearby Baluarte also serves as a fine illustration of the volcanic nature of Apo, with steady streams of bubbles, produced by underground geothermal activity, shimmering as they catch the sunlight.

Chapel Point, which gets its name from the Church that overlooks the site, is one of the deeper sites around Apo Island at around 30m. You will find many colourful tube and Finger sponges along the wall together with soft golden coloured leather corals sprouting from the volcanic rocks, making for an impressive sight. As you work your way along the wall there are a number of small overhangs and ledges to explore, home to clearfin lionfish and white-eyed moray eels. You will then come across a small cavern at about 20m, occasionally home to schools of silversides hiding from predators. With colourful soft coral hanging from above, and midnight snapper often drifting past the entrance, this makes for an excellent photo opportunity.

The diversity of the coral around Apo Island is further demonstrated by Rock Point West, a steep slope with great Hard Corals and Sponges on the deeper parts, and a luxurious forest of soft coral covering the shallower sections – some of the healthiest and most prolific corals you are likely to see! There is a good chance of spotting several hawksbill turtles whilst diving here, as they come to snack on their favourite soft corals. There is also access to the opposite side, Rock Point East, which forms a large finger-shaped reef protruding from Apo Island's South East corner. Its proximity leaves it exposed to stronger currents, which ensures incredible fish life and coral formations, as well as the occasional visit from larger pelagic fish.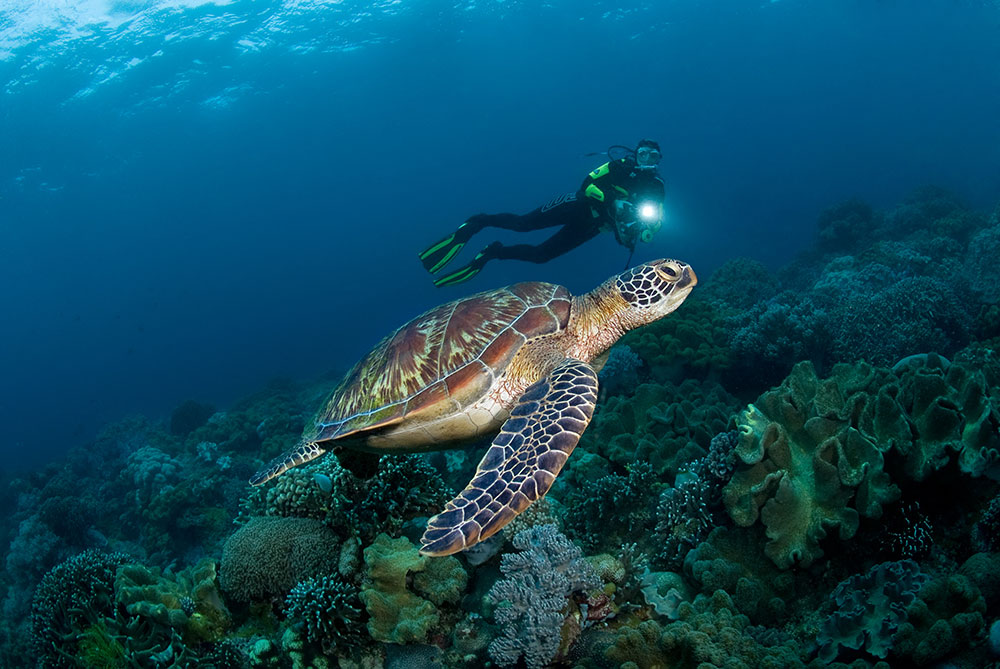 There is also drift diving on offer at Apo Island, with Coconut Point, sometimes referred to as the 'washing machine' due to the prevailing currents that are almost always present, an obvious choice. The current at Coconut Point ensures prolific marine life, and there is a high probability to see a large school of big-eye trevally, solitary giant trevally out on the hunt for prey, spanish mackerel and dogtooth tuna to name a few. The sloping reef section of this site is also a good place to look for huge green turtles and banded sea kraits and occasionally meter-long bumphead parrotfish are seen on this site. At one point there is a sand channel running between two rock cliffs, which provides shelter from the current and is an excellent place to sit and watch the show! Due to the current here though, Coconut Point is strictly for advanced divers with drift diving experience.
Siquijor Island:
There are also a number of sites located off the west coast of Siquijor Island, approximately an hour away from Dumaguete depending on wind and surface conditions. Few visit this unassuming province compared to other destinations in the Central Visayas region, which is surprising given its pristine beaches and superb diving spots.

Dive sites such as Paliton Wall offer a vast variety of beautiful soft coral, with excellent visibility and various species of nudibranchs, flatworms, different types of moray eels, scorpionfish and even the occasional cometfish hiding in the overhangs. The southern section of the wall starts at around 7m and in parts plunges down to depths of over 50m. At about 35 metres, where the visibility is usually outstanding, there is a very large overhang full of glassfish that are constantly being chased around by hungry lionfish. In the northern part there are more ledges and overhangs, where rare and exotic critters can be spotted by the eagle eyed diver. Some of the creatures that can be found here include egg cowries, peacock mantis shrimp, midnight snapper, fire dartfish and the electric-blue coloured ribbon eels, more commonly found at the top of the wall.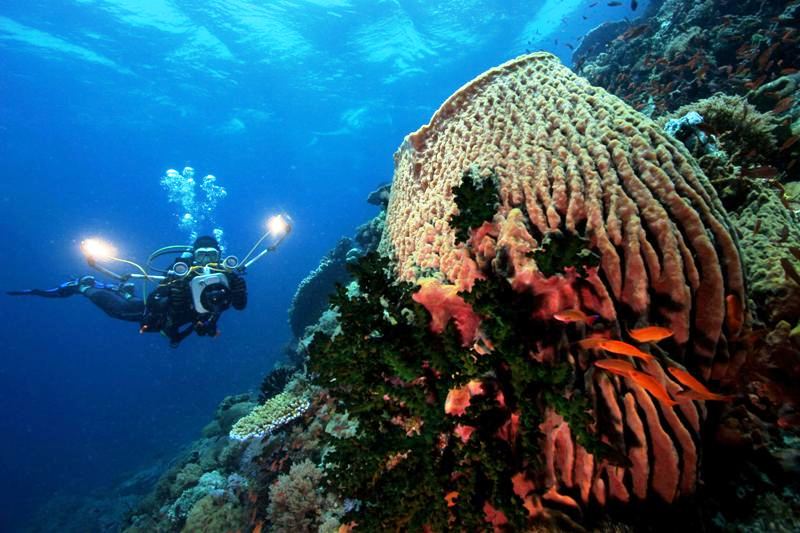 Ma-iti, a shallow reef with many ledges and overhangs, leads to a Coral Garden which gives way to an expansive white sand slope. Search here for spanner and box crabs, Ghost and stick pipefish and, if you have a hunt around, you may find the head of a snake eel protruding from the sand, as they bury their whole body beneath it. Be dazzled by a myriad of colourful reef fishes, lots of nudibranchs and the occasional turtle or banded sea krait as you follow your multi-level profile up into the shallows to complete your safety stop. The extremely rare hairy octopus has even been spotted here!

After such an adrenaline fuelled experience diving these sites, you may find you want something a little more laidback! Tambisan, a nice relaxing dive, gives the opportunity to cruise alongside schools of smaller reef fish, whilst taking in the large gorgonian seafans clinging to the wall, colonies of green tubastrea corals, black coral trees and hundreds of invertebrates. There are also several small caverns and crevices to explore, where you are likely to find sweepers, squirrelfish and soldierfish. The top of the reef, at around 10m, is home to many anemones hosting different species of anemonefish, porcelain crabs and commensal shrimps. Down a little deeper you can find pairs of fire dartfish hovering above their burrows, looking out for their next meal.