2020 - 2021 Scuba Diving Holidays, Liveaboards and Learn to Dive Courses to the Maldives, Red Sea, Canary Islands, Far East, Caribbean and the Pacific.
Bahamas Dive Sites - Bahamas, Caribbean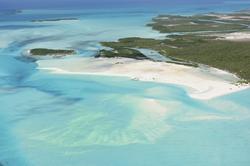 The Bahamas Top Dive Sites as recommended by Bahamas Carib Dancer Liveaboard.

Nassau in the Bahamas and the nearby Exumas consist of over 350 small islands and cays lying 35 miles south of New Providence island. Travel by liveaboard to the Great and Little Exuma to the south for stunning wall diving and rich shallow reefs all in visibility of more than 200m. See pristine, healthy coral, all manner of shark from reef to Ocean Whitetips, wild dophins, wrecks, pinnacles, blue holes plus rare sightings.

Nassau

Lost Blue Hole
The rim of this large blue hole lies in 40' of water surrounded by coral heads, stingrays and many schools of fish. There is a lobster filled crevice at 24m (80'). In the sand surrounding the hole, divers will find many small fish such as Banded jawfish, Seminole gobies and Tobacco fish. There are usually 1 or 2 nurse sharks here and during the spring a large school of Blacknose sharks inhabits the bottom of the 60m (200ft) hole. This is the location of the Bahamas first lionfish sighting.

Periwinkle Reef
This is a shallow patch reef that is teaming with fish. The local Nassau operators feed fish here, so sergeant majors and angelfish will approach scuba divers looking for a handout.

The Exumas

Amberjack Reef
A 15m (50ft) patch reef that has prolific fish life. You will see reef sharks and up to 10 large grouper. This dive also has many interesting small critters such as pirate blennies and garden eels. During the safety stop divers will be surrounded by a school of 100+ horse-eye jack that hang out under the yacht.

Austin Smith Wreck
A 27m (90ft) Bahamian Defense Force Cutter lying in 18m (60ft) of water that sank in 1995 while being towed to San Salvador to be sunk there as a dive site.

Barracuda Shoals
This bankside patch reef has huge schools of fish as well as many small critters on the reef and surrounding sand.

Blacktip Wall
Hammerhead sharks have been sighted frequently on this wall. This reef is also where Ned Deloach (Reef books co-author) found the very rare Lemon goby.

Cathedral
This site is part of the Dog Rocks Reef. This reef starts at 11m (35ft) and slopes off to 15m (50ft) before dropping straight down into the Exuma Sound. The Cathedral is a large swim-through where the light filters down from above reflecting off the thousands of silversides that occupy the swim-through. This swim-through has many grouper and jacks that come to feed on the silversides. The wall has large stands of black coral and orange elephant ear and tube sponges. Pelagics, eagle rays and sharks are frequently seen off the wall.

Cracked Coral Head
This massive coral head rises 12m (40ft) off the bottom. Several large swim-throughs make it looked like it is cracked.

Jeep Reef
This site named from a coral encrusted jeep that sits near the morring is in the middle of the Exumas Land & Sea Park and hosts a healthy population of fish. It is also one of the prettiest reefs you will ever see. Current that sweeps through this cut keeps the reef 's corals very healthy.

Pillar Wall
One of many excellent wall dives. It starts at 9m (30ft) and slopes to 15m (50ft) before dropping 1,524m (5,000ft) to the bottom. There are many caves and crevices. There is a large colony of Yellowhead jawfish in the rubble inside the reef.

The Washing Machine
The strong incoming tide of up to 6 mph takes scuba divers through a narrow cut where water drops off a ledge and then makes a sharp bend to the left. This causes the water to swirl like the water in a washing machine. This swirling water will toss scuba divers head over heels. Scuba divers who wish to avoid being tossed around can stay to the right where you will have a smooth fast trip through the cut. After passing through the cut you will then glide over a large patch reef. Enjoy the ride!

Wax Cut Drift
Divers and Snorkelers alike fly over this 9m (30ft) reef at over 2 knots. You will see rays, sharks, eels and numerous fish as you drift with the current in the cut between the islands. The sheer density of staghorn, pillar and finger corals is amazing.

Whale Tail Wall
A great wall just south of Wax Cut. Large parrotfish roam the sand inside the reef while sharks & eagle rays are frequently seen off the wall.

Southwest Eleuthera

Cave Rock
A large coral mound in 15m (50ft) of water surrounded by several smaller coral heads. There are several caves where you can swim from one side tothe other. The large variety of corals and fish will amaze you. Hammerhead Sharks have been frequently seen here.

Monolith
Large mounds of coral rise out of the sand at the edge of the wall. They start at 100' and rise to 16m (55ft). There is a colony of Garden Eels in the sand next to the mounds.

Little San Sal (Half Moon Cay)
Cave Reef - This 12m (40ft) shallow patch reef has several large swim-throughs cutting through the middle.

Empress Pinnacles
This wall dive features 9m (30ft) high pinnacles coming out of the sand at the edge of the wall. Peligics are seen frequently in the clear water off the wall. There are large stands of black coral on the sides of the pinnacles.