2020 - 2021 Scuba Diving Holidays, Liveaboards and Learn to Dive Courses to the Maldives, Red Sea, Canary Islands, Far East, Caribbean and the Pacific.
Nabucco Resort Speyside Inn

Tobago, Caribbean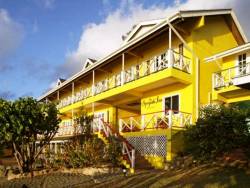 For your diving holiday to Tobago - Caribbean, Speyside Inn is a small privately owned hotel with tropical gardens set directly on Speyside bay with PADI dive centre onsite. With access to a wide variety of dive sites and some of the best diving in Tobago.

Location
Set on a hillside in Speyside withing the local village, on the north east coast of Tobago. The transfer from the airport takes approximately 1.5 hours. Located in one of the most natural parts of Tobago, with spectacular views over the bay, the hotel allows easy access to the diving jetty just a few minutes walk and exploring the local area.

Accommodation
The Nabucco Resort Speyside Inn is a traditional Tobago hotel with 21 double of twin bedded rooms all with ensuite bathroom, mini fridge, in room safe, sea views and balcony. Under the management of Extra Divers since 2010, the rooms offer traditional and airy accommodation with high ceilings, ceiling fan and queen size beds in the double rooms. Tower and Superior Rooms have air-conditioning in addition to the standard room facilities.

Facilities
The hotel has a restaurant, lounge area and bar and a small pool with terrace where you can enjoy wonderful views over Speyside Bay.

Activities
The hotel allows access to many nature trails and is set within the protected rainforest. A a bird watcher's paradise,Goat Island or Little Tobago island is a short boat ride away and was the location for filming by David Attenborough in the Trials of Life. Other activities including kayaking, snorkeling, fishing charters, glass bottom boat tours, yoga, tennis, hiking tours plus games room with TV and internet access. The area is ideal for mountain biking and not to be missed is a visit to see the local 175' Argyle Waterfall.

Diving
A PADI Dive Centre is based on site with a short few minutes walk to the jetty where the dive boats are docked. More >

Fact File
Best Time: All year (best Jan- May)

Average Air temps: 26-30°C

Average Water temps: 25-28°C

Visibility: 15-50m (visibility is reduced in rainy season Jul-Nov)

Top Dive Sites:
South MV Maverick, Mt Irvine Wall, Divers Thirst & Diver's Dream. Good sheltered, fast drifts, rare & wrecks. Caribbean coast - The Sisters. In the North East Kelleston Drain, London Bridge, Japenese Gardens, Cathedral. Gentle inshore & advanced Atlantic sites.

Great Reasons to Dive in Tobago



300+ species marine life
Rare angel fish, schooling pelagics, Scalloped Hammersheads (Dec-Apr), Mantas, sharks & rays.
Most dive sites 10-20 mins.
Eco island - nesting Leatherbacks, rare birds
Beautiful unspoilt beaches & protected rainforest.
Carnival, jazz & 'jump ups'.