2022 - 2023 Scuba Diving Holidays, Liveaboards and Learn to Dive Courses to the Maldives, Red Sea, Canary Islands, Far East, Caribbean and the Pacific.
Little Cayman Beach Resort

Cayman Islands, Caribbean
NEWLY FEATURED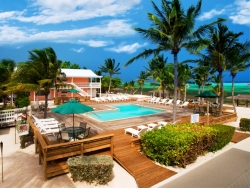 For your diving and liveaboard holiday to the Cayman Islands, Caribbean The Little Cayman Beach Resort is a small boutique hotel with 40 rooms, located on a secluded ocean front position with private beach, swimming pool, a la carte dining restaurant, boutique spa. Offering a personal service. Experience the best of diving the Cayman Islands from the resorts on-site PADI dive centre.

Location
The Little Cayman Beach Resort is situated on a private beach in the south of Little Cayman, boarded by the South Hole Sound, a turquoise lagoon protected by the reef.

Accommodation
This boutique resort offers 40 spacious rooms located in two story buildings surrounded by tropical gardens. The bright, newly furnished rooms have Caribbean themed artwork and newly decorated bathrooms. All rooms are equipped with individually controlled air conditioning, a ceiling fan, TV, DVD player, mini fridge, coffee maker, hair dryer, safe and WiFi. The room categories include;
28 Pool View Rooms which are located around the swimming pool and are equipped with two doubles or one king size bed and a bathroom with a shower.
12 Ocean Front Rooms, these are located directly on the beach with views of the reef. They are equipped with a private balcony or patio with sun loungers, a microwave, wet bar and a seating area with a couch and coffee table.

Facilities
The Bird of Paradise Dining Room serves a variety of gourmet Caribbean inspired and international cuisine and guests have the choice to dine inside or on the patio. Dining hours are tailored to dive schedules, including extended hours to accommodate night dives. The Beach Nuts Bar is located next to the pool, with views over the sea, they serve a selection of alcohol and have weekly theme nights. The hotel has a swimming pool, hot tub, a nature spa with a variety of treatments available and a boutique shop.

Diving
Located onsite the dive centre offers a range of PADI courses. The centre also has 2 shore dive locations which have a large amount of marine life and a deep wall which is only 10 minutes offshore.

Our Opinion
Experience the best of island diving combined with personal service from this charming resort with superb ocean front location overlooking the turquoise lagoon.


Fact File
Best Time: November - April (Dry season), May - October (Wet season)

Average Air temps: 24-30°C

Average Water temps: 26-28°C Recommended - 3mm shortie/full suit.

Visibility: 5-100m (Jan-June)
Up to 200m (July - December)

Top Dive Sites: Stingray City - Grand Cayman, Bloody Bay Wall - Little Cayman. Wrecks USS Kittiwake, Balboa & Oro Verde - Grand Cayman, San Miguel - Little Cayman, Captain Keith Tibbets - Cayman Brac. Spectacular wall dives. North Wall .

Great Reasons to Dive in the Cayman Islands


World class, year round diving.
Twin centre diving with Cayman Brac & Little Cayman.
Outstanding visibility.
Sheltered, calm easy access dives - photographers heaven.
Excellent snorkelling trips.
Marine Parks plan since 1986 ensuring regulated dive sites.
281 single & double mooring to control numbers of dive boats.