2018 Scuba Diving Holidays, Maldives Diving Holiday, Red Sea Diving Holidays, Liveaboards and Learn to Dive Holidays from Sportif Dive
Micronesia and Pacific - Liveaboards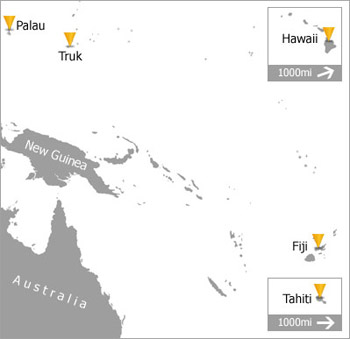 Choose a scuba diving holiday to Micronesia and the Pacific which offers adventures for those wanting an exploratory and exotic diving holiday. Meet unique and rare marine creatures and dive sites of unsurpassed beauty that will leave memories for a lifetime. Dive holidays in Micronesia are famous for the chance to see World War II wrecks.
Palau, made up of 300 mostly unihabited islands that look like 'mushrooms'. From caves to soft corals, mantas to giant shoals, sharks and 1500 variety of fish. This is a truly special destination.
Truk Lagoon famously has hundreds of World War II japanese wrecks lying in 35m water almost intact. Historically facinating and an excellent twin centre trip with Palau.
Explore the magic of Fiji and Hawaii aboard a luxury liveaboard or enjoy the pure escapism on the paradise island of Bora Bora in your own water villa. For a once in a lifetime trip visit the Galapagos, Darwin and Wolf Islands.

Truk Lagoon Liveaboard - Truk Lagoon, Micronesia and Pacific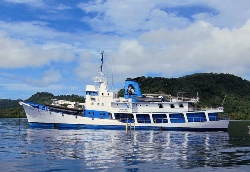 Diving from the SS Thorfinn in Truk lagoon offers warm, tropical water conditions with access to the 30 dive sites around the sheltered islands. Diving in this part of Micronesia suits all levels of diver with shallow, snorkeling sites to deep wrecks for more advanced divers. With minimal currents and good visibility, photographers enjoy conditions to get amazing results. The Thorfinn offers personal diving programmes to suit individual requirements.
Accommodation
10 double occupancy cabins for up to 20 guests. Eight cabins have private facilities and the 2 share facilities. Cabins have
Facilities
The ship has 5 decks with navigation bridge, dive launch storage and after sun deck with lounge chairs and shade canopy. Below deck there is a Guest Lounge seating up to 30 persons with bar, DVD and reading library, CD player with IPod connection, Plasma TV, SatCom internet, Spa area for 11 persons, 2 camera service/storage tables, dining room with 5 tables seating up to 26 persons.

Diving
There are a choice of 30+ wrecks in a week. Diving from ribs operates 7 days a week with up to 5 dives a day on 5 different sites. Diving is from covered 30ft tenders launches allowing groups to dive at different locations during the day to avoid over crowding a single mooring. Dive guides accompany each group. Technical divers have the choice of optional banded double cylinders, 3-4 ltr pony bottles, and special re-breather bottles which should be requested in advance. Two onboard oxygen generators permit custom gas blending up to 100% O2 content. Both SodaSorb or Sofnalime are stocked aboard, along with Helium that should be advance requested to ensure sufficient on-hand quantities are available as required. Detailed specifications of diving equipment are available on request. Structures and safety gear comply with IMO (International Maritime Organization) standards.
Fact File
Diving Conditions




Suitability:
Beginners

Intermediates

Advanced

Technical

Best Time: Year round.

Average Air temps: 27-32°C

Average Water temps: 22-29°C

Visibility: 10-30m

Top Dive Sites: Famous Fujikawa Maru at just over 30m, Yamagiri Maru freighter (134m length),Heian Maur & Gose Maru submarines. Plus many aircraft wrecks at shallower depths.

Great Reasons to Dive in Truk Lagoon


World class wreck diving.
WWII Japanese & US plane, submarine & ship wrecks.
Many intact wreck features plus tanks, trucks, guns & artifacts.
Reefs with varied marine life.
Shallow sites.
Liveaboard and shore based options.
Closed circuit rebreather and technical diving.