2020 - 2021 Scuba Diving Holidays, Liveaboards and Learn to Dive Courses to the Maldives, Red Sea, Canary Islands, Far East, Caribbean and the Pacific.
Tobago Dive Centre Store Bay - Tobago, Caribbean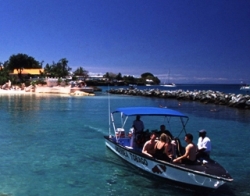 Our recommend Tobago Dive centre in the Store Bay, Crowne Point area is located at Coco Reef Resort. Established in 1997, this professional PADI dive centre which is owned and run by husband and wife team, Derek & Evelyn Chung. A personal service and uncrowded diving experience are provided at the centre. The centre has over 30 years of experience which gives each dive not only safety but great marine lie and dive site knowledge.

Location
Located at the Coco Reef Resort, in the south west of Tobago near the Crowne Point and Store Bay public beach areas, a short distance to the public jetty and Pidgeon Point heritage park. There are a choice of hotels just 5 to 10 minutes away. More >

Facilities & Services
The dive boat is an open design powered by twin outboard engines with cruising speed of up to 20knots, VHF radio, DAN oxygen, shade and tank racks and will accommodate 6-8 divers maximum. Good storage facilities and quality rental gear. Nitrox is available from the centre. Dive boat charters and snorkelling trips. are available when booked in advance before arrival.

Diving
Over 20 superb dive sites accessed from 10-30 minutes. Sites include wrecks, reef encrusted with sponges and coral growth, pinnacles, wall and drift dives where turtles, morays, rays, seahorse, batfish, grunts, snapper, barracuda, black tip, reef sharks, nurse sharks, horse eyed jacks and scalloped hammerhead sharks may be encountered.


Dive Packages
Two tank dive trips for certified divers depart from the Coco Reef resort beach at 09:30am from Monday through to Saturdays, returning approximately 13:00pm. Single tank dives are scheduled from 13:30pm and snorkelling trips depart at 15:00pm. Sundays may be available for group bookings, arranged in advanced prior to arrival.
DIVE PACKAGES

Price from

06 Dive Package

£160
10 Dive Package
£245
Above includes tanks & weights
Please note: Additional surcharges for trips to the Sisters/Speyside, equipment rental and nitrox are payable locally.
Dive Courses
SASY Diver, Bubblemaker, Discover Scuba Diving, Scuba Diving, Open Water Diver, Open Water Referrals, Advanced Open Water, Enriched Air Nitrox, Deep, Wreck, Drift and other specialist courses. Courses include the use of equipment, student materials & registration, if applicable. Specialist SASY programme for children from 5 years and above. Most courses are scheduled in the afternoon and should be booked in advance to guarantee availability.

DIVE INSTRUCTION

Price from

PADI Open Water

£308
Advanced PADI Open Water
Includes 4 dives, registration & equipment rental.
£247
Referral PADI Open Water
Includes 5 dives, registration & equipment rental.
£189
Gallery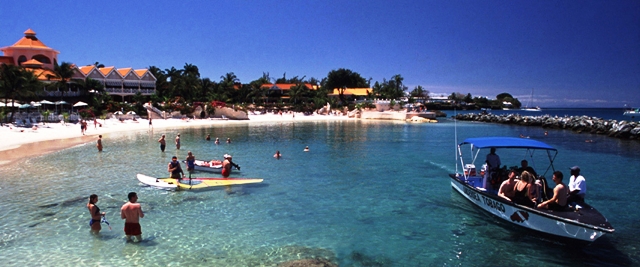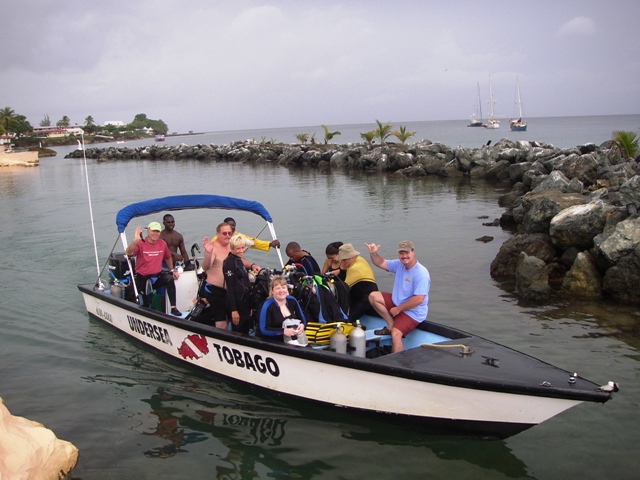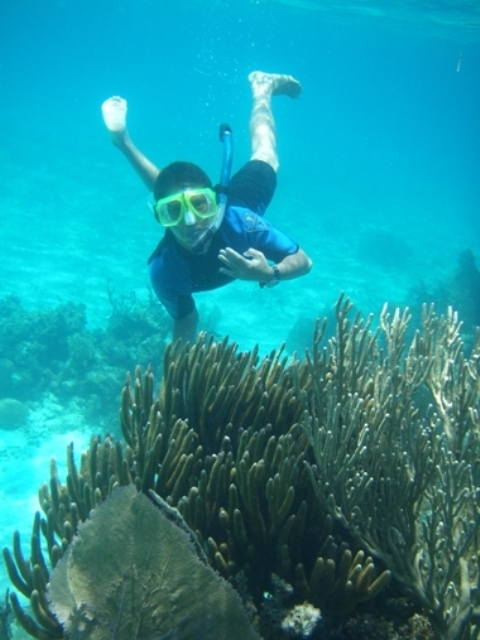 Fact File
Best Time: All year (best Jan- May)

Average Air temps: 26-30°C

Average Water temps: 25-28°C

Visibility: 15-50m (visibility is reduced in rainy season Jul-Nov)

Top Dive Sites:
South MV Maverick, Mt Irvine Wall, Divers Thirst & Diver's Dream. Good sheltered, fast drifts, rare & wrecks. Caribbean coast - The Sisters. In the North East Kelleston Drain, London Bridge, Japenese Gardens, Cathedral. Gentle inshore & advanced Atlantic sites.

Great Reasons to Dive in Tobago



300+ species marine life
Rare angel fish, schooling pelagics, Scalloped Hammersheads (Dec-Apr), Mantas, sharks & rays.
Most dive sites 10-20 mins.
Eco island - nesting Leatherbacks, rare birds
Beautiful unspoilt beaches & protected rainforest.
Carnival, jazz & 'jump ups'.