2022 - 2023 Scuba Diving Holidays, Liveaboards and Learn to Dive Courses to the Maldives, Red Sea, Canary Islands, Far East, Caribbean and the Pacific.
Barbados, Caribbean - Dive centres
Barbados Dive Centre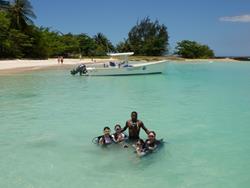 Located approximately 5 minutes boat trip from Carlisle Bay Marine Park where there are a number of shipwrecks within close proximity. The diving is along the south and west coasts of Barbados and provides various marine life including the Hawksbill Turtle.
Fact File
Best Time: December to July/Aug

Average Air temps: 24-29°C

Average Water temps: 25-28°C

Visibility: 5-100m (Jan-June)
Up to 200m (July - December)

Top Dive Sites: The Blue Hotel, Wrecks include Stavronikita (for advanced divers), Lord Combermere, Pamir and Carlisle Bay wrecks, accessible for all – Berwyn, Eilon, C-Trex and Fox.

Great Reasons to Dive in Barbados

Ideal learn to dive destinations
Perfect for recreational diving in combination with tropical beach holiday
Welcoming, friendly island.
Duty free shopping and busy downtown area
Historical tours & island excursions
Multisport options