2022 - 2023 Scuba Diving Holidays, Liveaboards and Learn to Dive Courses to the Maldives, Red Sea, Canary Islands, Far East, Caribbean and the Pacific.
Cape Verde Islands, Africa - Dive sites
Cape Verdes Diving Sites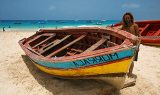 Diving guide to to the Cape Verdes islands diving sites off Santa Maria, Palmeira and Mudeira on Sal Island.
Fact File
Diving Conditions






Suitability:
Beginners

Intermediates

Advanced

Technical

Best Time: Year Round

Average Air temps: 22-29°C

Average Water temps: 20-27°C

Visibility: 5-100m (Jan-June)
Up to 200m (July - December)

Top Dive Sites:
Sal Island - Santa Maria sites: Santo Antao Wreck, Choclassa, Kwarcit Wreck, Farol Baixo, Trés Groutas, Pontinha. Palmeira and Mudeira sites: Morrinho das Pedra, Ilheu, Palmeira Caves 1 & 5 and Buracona Cave. More >

Dive Centre: Courses and Dive Packages More >


Great Reasons to Dive in Cape Verdes


Short flights just over 6 hrs.
Uncrowded diving.
Whales (Mar-May).
Mantas and Whale Sharks (July-Nov).
Dives dives from 11-40m with sites for advanced divers.
Platforms, drop offs and Cave diving.
Protected turtles, shark.
Multi sport options windsurfing, kitesurfing
and surfing.