2019 - 2020 Scuba Diving Holidays, Liveaboards and Learn to Dive Courses to the Maldives, Red Sea, Canary Islands, Far East, Caribbean and the Pacific.
Wreck Diving in Truk Lagoon - Truk Lagoon, Micronesia and Pacific
The warm tropical waters of Truk Lagoon offer an incredible range of over 60 wrecks to suit all levels of divers, from shallow snorkelling to deep technical dives. A minimum advanced qualification is recommended to really get the most from a diving holiday to Truk, with some outstanding wrecks located beyond entry level limits. There is little current within Truk Lagoon, and good visibility. The sheer amount of wrecks – ships, planes and even a submarine are reason enough to dive Truk, but it is also well worth visiting the pristine outer barrier reefs with colourful bright corals and varied marine life. See below for an insight into the dives available in Truk Lagoon:
Fujikawa Maru – Arguably the signature dive site of Truk Lagoon, this armed cargo ship rests upright on the sandy bottom at 34m (110ft), rising up to 5m (15ft). She is one of the largest vessels at over 130m (430ft) in length giving plenty to explore. Decks are encrusted with corals as are her guns on the aft deck, whilst 6 holds, 4 of which are open, contain a plethora of artefacts from the war, including Mitsubishi aircraft wings and Zero fighter propeller blades. The wreck is suitable for divers of all levels however deeper penetration into the engine room will only be permitted to certified tech/wreck divers. During a 10 night itinerary on the Truk Master Liveaboard, guests will be able to make multiple dives on the 'Fuji' to explore in full and take photographs at different times of day.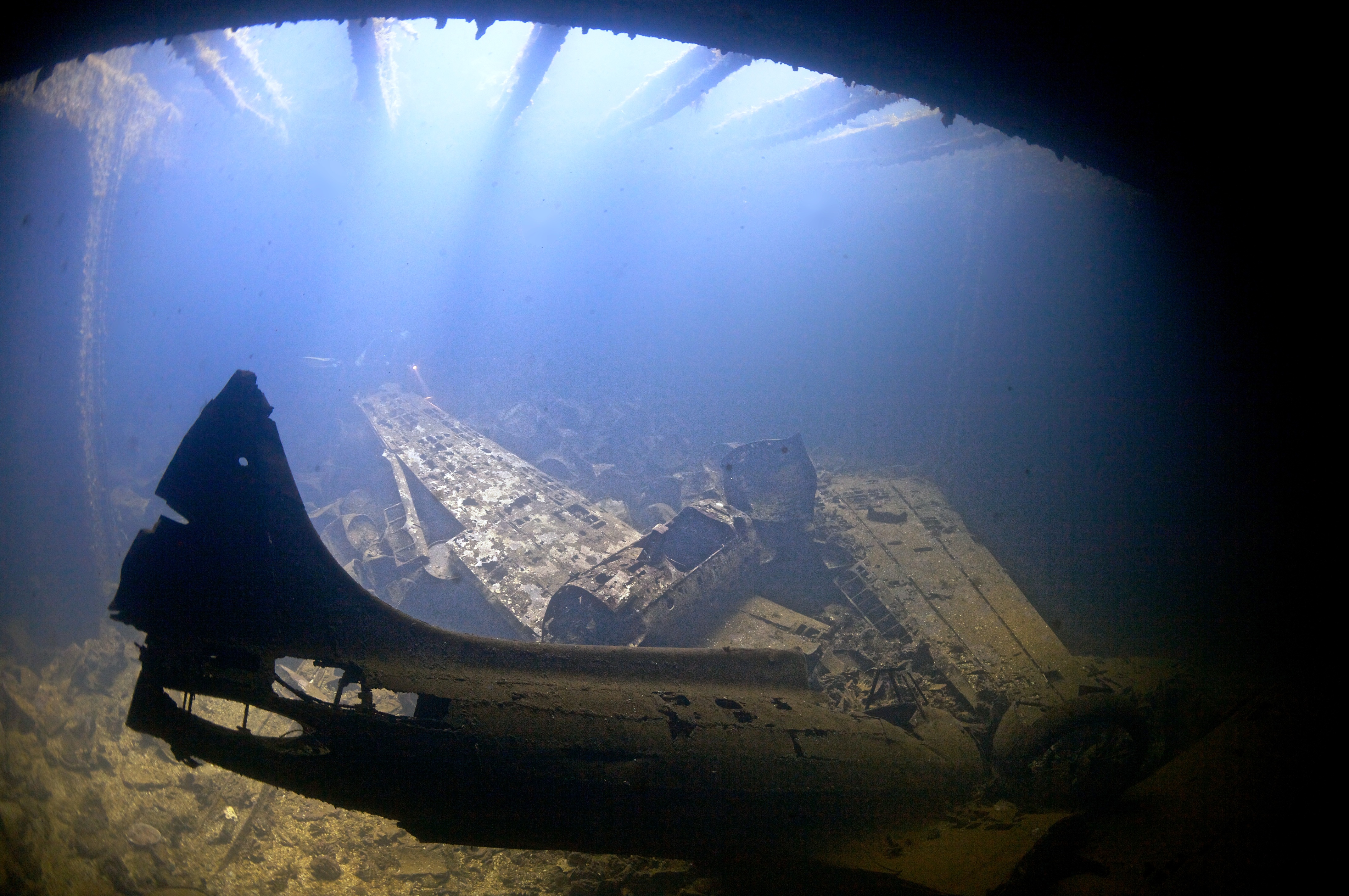 Fumitsuki – The Japanese destroyer sits upright in 38m (130ft) of water and is covered with corals attracted a wide variety of marine life. Her upper deck is at 21m (80ft) allowing recreational divers of advanced level plenty of opportunity to explore the wreckage.
Hoki Maru - A 30m (100ft) long freighter, the Hoki Maru lies upright from 50m (165ft), and is only partially intact. Trucks and road supplies are among the artefacts carried, and sake bottles can be found here too. Covered in brightly coloured sponges, this truly is an awe inspiring dive.

Submarine I.169 - When attempting to quickly submerge to avoid damage during the attack, the submarine unfortunately failed to close her valves which allowed water to enter, and now rests on her port side at a depth of 42m. Fearing capture of the hull, Japanese forces depth charged the forward part of the submarine and conning tower, but the aft part is left untouched.

Shinkoku Maru – A large oil tanker which now rests upright on the bottom encrusted with corals, sponges & hydroids. It is possible to see into the engine room from the bridge, whilst the galley still holds many utensils on the large stove. Small guns, mounted fore and aft are also covered with corals making this one of the most colourful and spectacular wrecks to be found in Truk.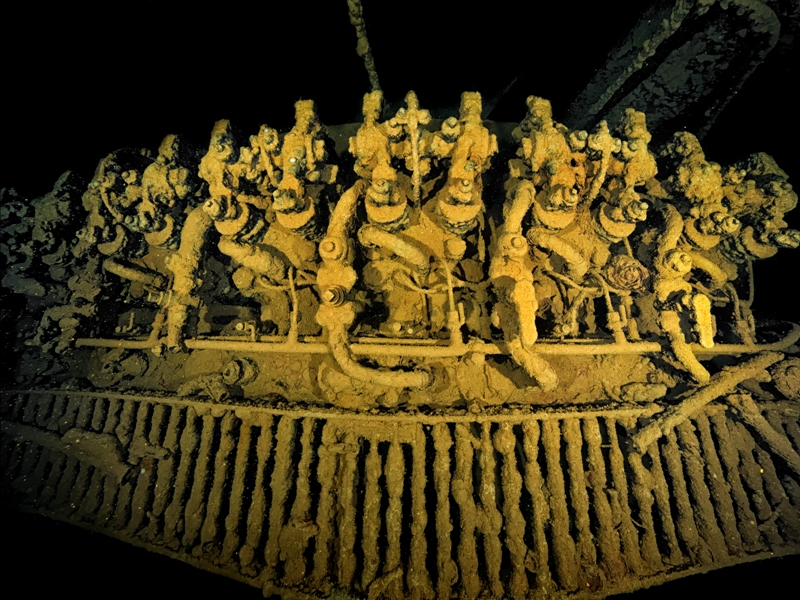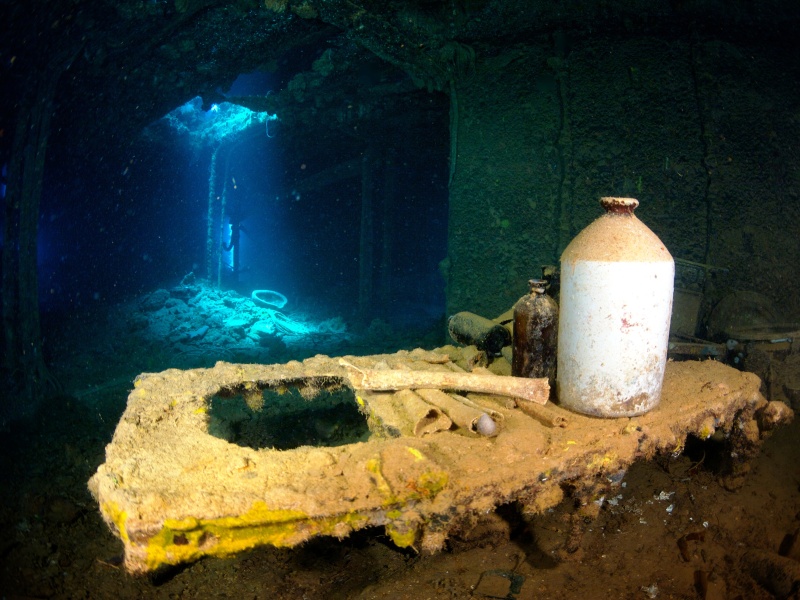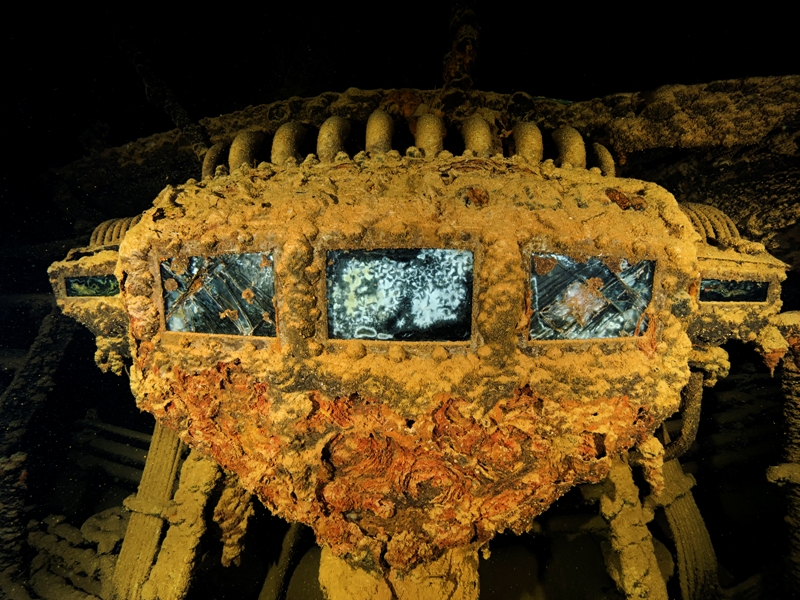 Nippo Maru – With a depth range of 24m – 42m (78ft-137ft) the Nippo is an intriguing dive site for recreational divers and tech divers alike. With a tank and howitzer guns on deck, and 5-inch guns in the holds, the Nippo is not to be missed.

Heian Maru – The largest ship in the lagoon, the Heian, originally used as a cargo ship, is 165m (510ft) in length and lies on her port side in 34m (150ft) of water. Within her holds divers may find torpedoes, shells and even the occasional periscope.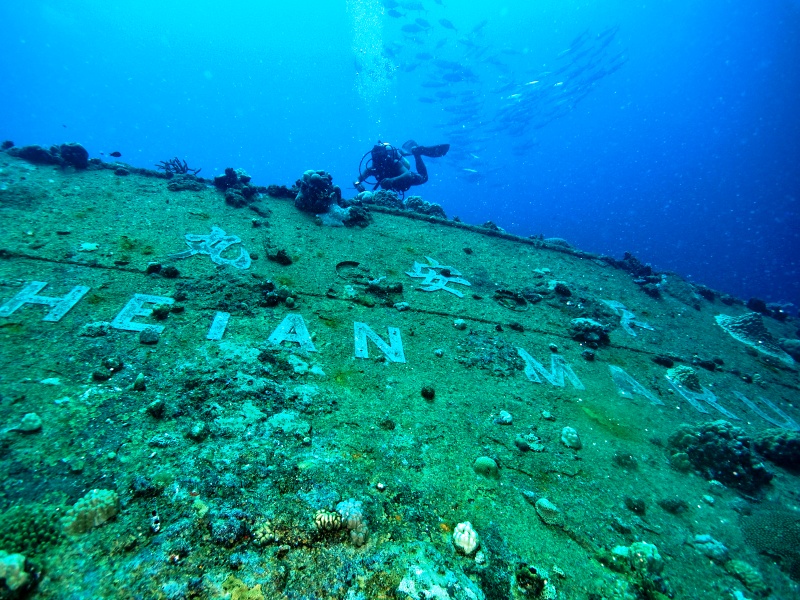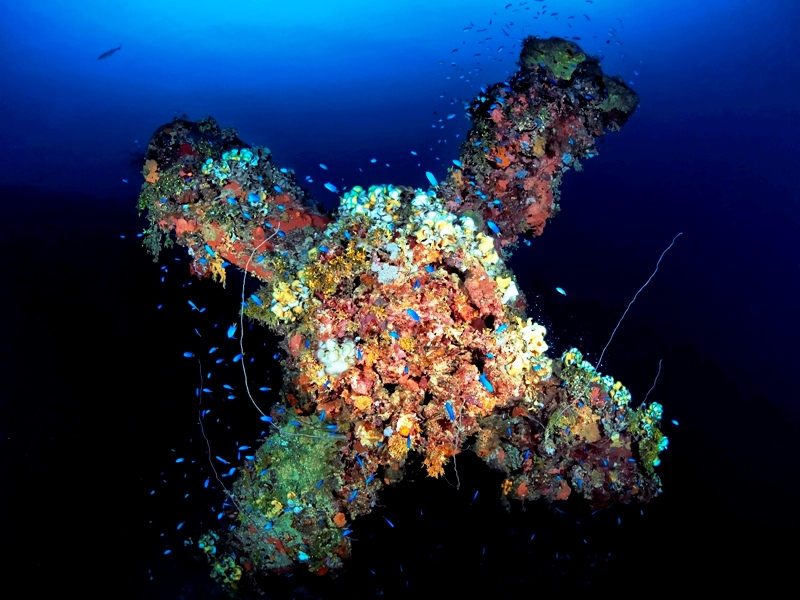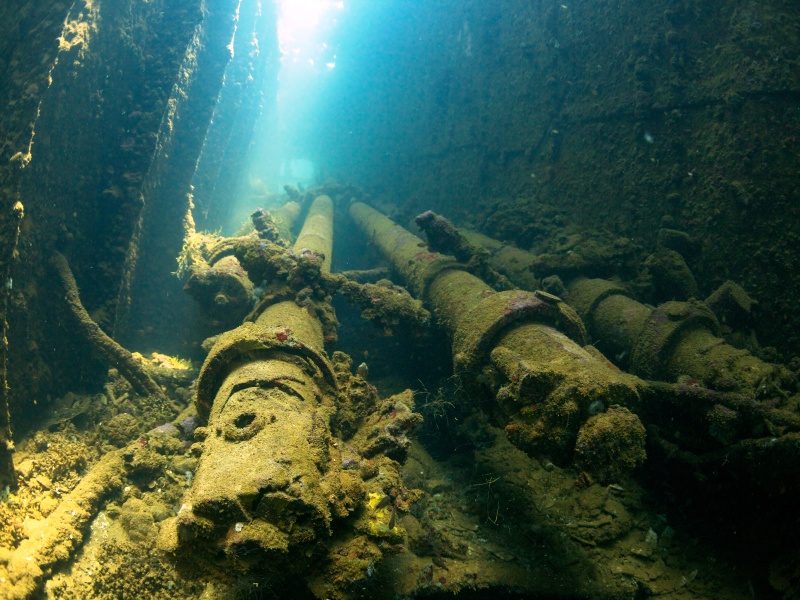 San Francisco Maru – The passenger & cargo ship, weighing 5,831 tons, lays upright at a depth of 63m (195ft). Here divers can see the remains of many well preserved war-relics including three large tanks which rest on the deck at between 46-55m (150-175ft).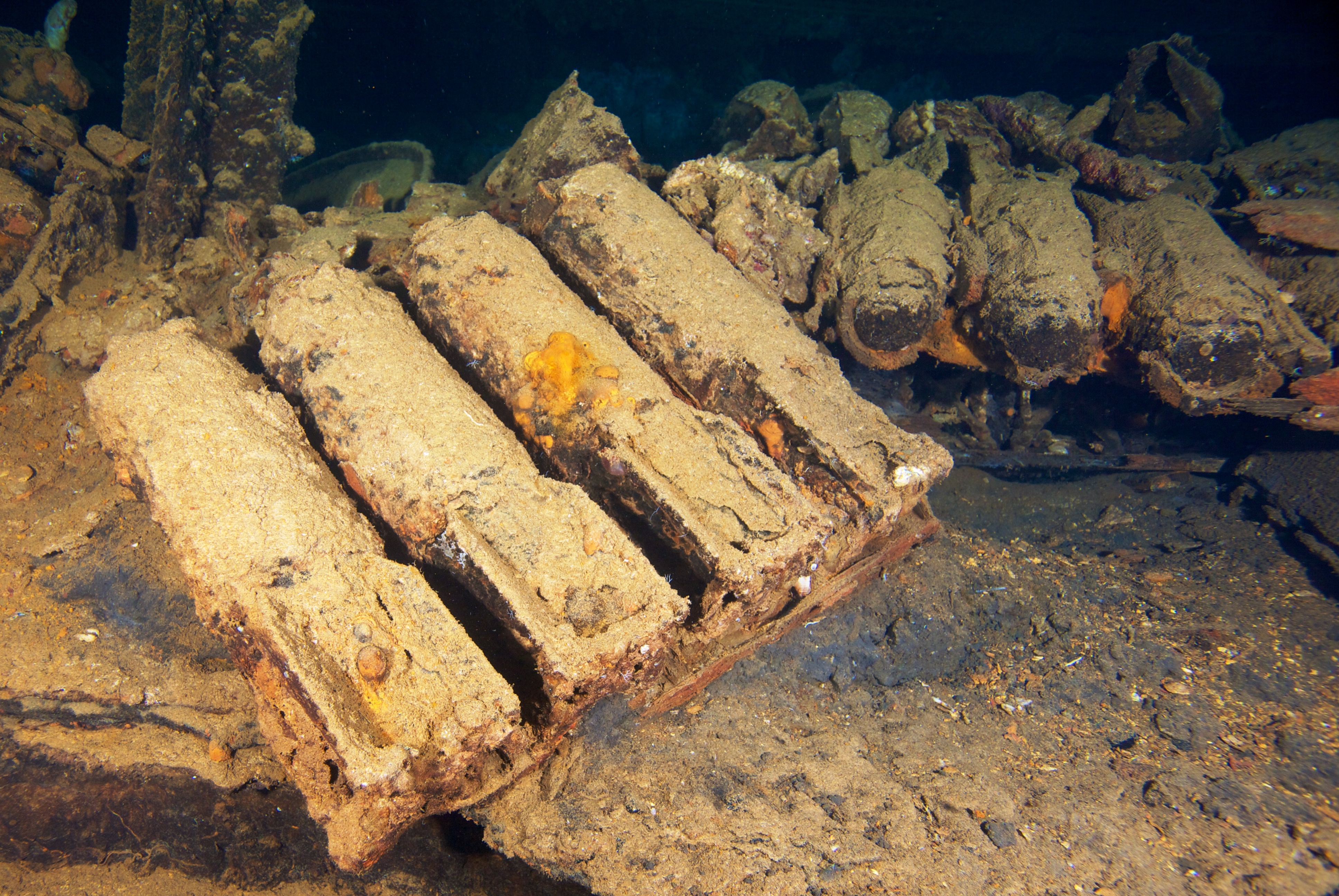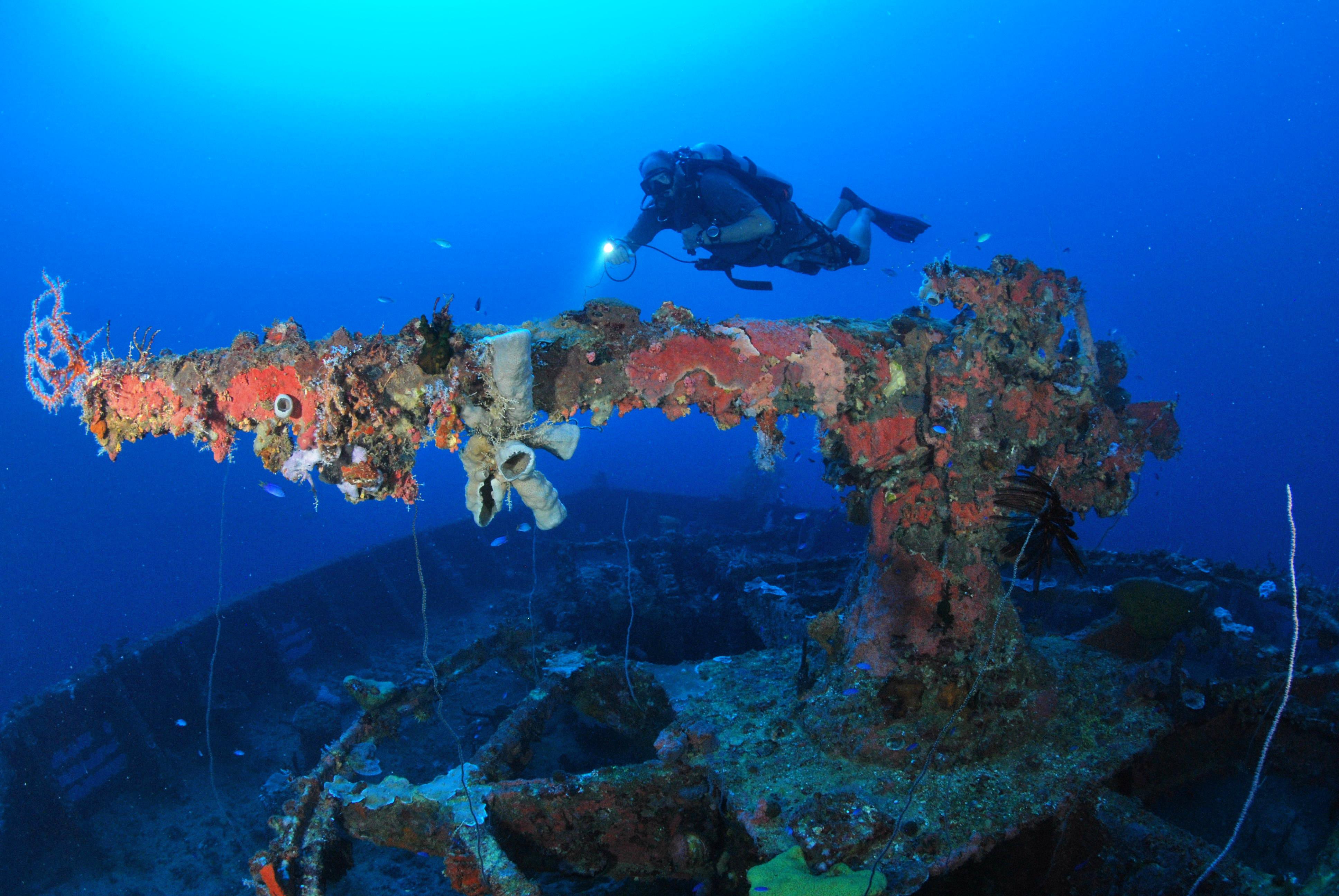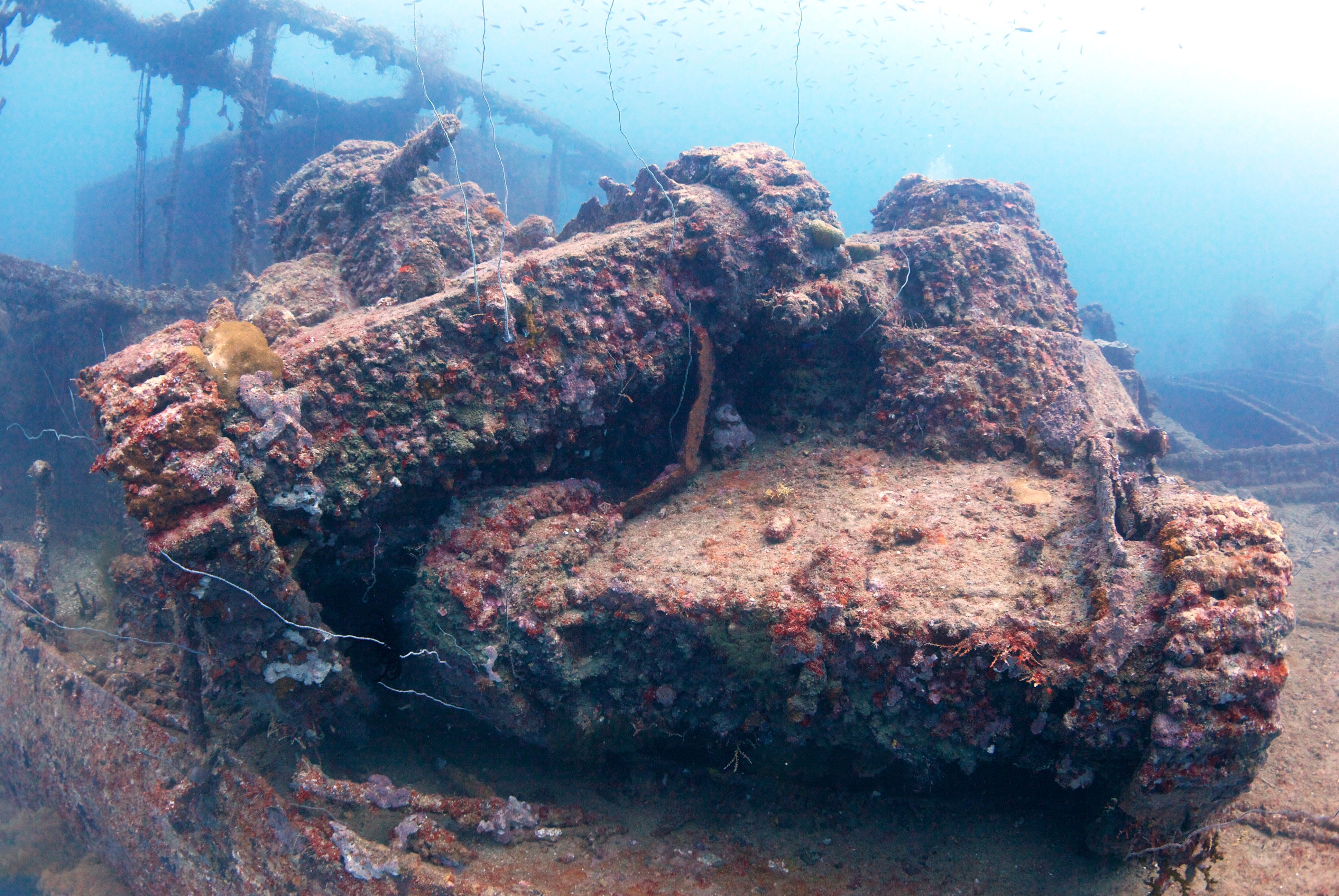 Rio de Janeiro Maru – This ship lies on her port side at a depth of 34m (110ft) with holds containing numerous artefacts from bottles to guns. Once a luxury passenger vessel, she was converted to a cargo carrier for wartime and now provides divers with an easy exploration both inside and out.

Gosei Maru – A submarine tender carrying torpedoes starts in just 3m (10ft) and drops to 33m (120ft) within which can be found many personal artefacts, serving as a reminder of those who lost their lives during the battle.