2020 - 2021 Scuba Diving Holidays, Liveaboards and Learn to Dive Courses to the Maldives, Red Sea, Canary Islands, Far East, Caribbean and the Pacific.
Australia, Far East & Australia - Liveaboards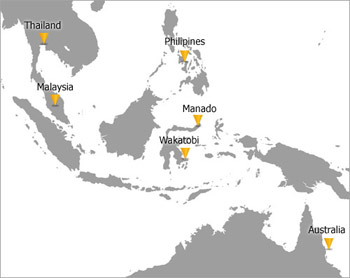 Australia and the Far East is home to some of the world's most exciting and sought after scuba diving and perfect diving holiday locations. Visit sites that haven't changed since the dawn of diving to glide along some of the most picturesque and impressive walls and distant coral seas - dive holidays dreams are made of.
Visit one of the seven wonders of the world – The Great Barrier Reef which runs some 2000 miles along the north western coast of Australia. From here you can explore the Coral Sea, visit the famous Cod Hole and dive with Minke whales. The excellent Mike Ball Liveaboards offer a range of intineraries and you can extend your holiday with a tour of Australia's sites.
Manado and Wakatobi off the north and south east of Sulawesi in Indonesia. Manado's Bunaken Marine park is within 30 minutes of the authentic and unassuming accomodation. Wakatobi offers the best of luxury accommodation & liveaboards. Both are world class diving locations. Photographers will enjoy diving in Lembeh where there are specialist led diving weeks for underwater photographers with excellent quality facilities for your equipment.
Layang, Layang off the coast of Saba is largely unexplored with 50m visibility and famous for hammerheads. This reclaimed 50 acre island offers spectacular wall diving plus giant mantas and morays.
Offering excellent value in the Far East is in the Philippines with some of the best diving in all asia. dive sites. It has the widest choice of dive sites from deep dives, drift dives, wreck sites and many more. Our latest edition to the programme is our choice of liveaboard to Sipadan, Borneo, Raja Ampat and Komodo and the Coral Triangle. See 1000s of schooling pelagics, visit world class muck, reef and wall dive sites - some of the best in the world. Bali and, Thailand ideal for critters, leisurely diving, stunning beaches and perfect for non-divers too.
Australia Great Barrier Reef Liveaboard
This 30m luxury catamaran explores the 450 mile Coral Sea includes some of the best dive sites on Australia's Great Barrier Reef . Visit Challenger Bay, Cod Hole, exciting shark action in the Coral Sea, Ribbon Reef sites and many more.
Fact File
Best Time: August-September but good diving all year.

Average Air temps: 24°C (July - Winter) 30°C (Dec/Jan - Summer)

Average Water temps: 22°C (June - Winter) 26°C (March - Summer)

Visibility: Best April-December.

Top Dive Sites: Specific itineraries on the Great Barrier Reef variable by dates.
Cod Hole - 3/4 night liveaboard,
Coral Sea Safari - 7 night liveaboard. Challenger Bay, Cod Wall & Hole, Ribbon Reef, Lizard Island, Cooktown.

Great Reasons to Dive in Austrailia

Great Barrier Reef
Diving and Reseach expeditions
Minke Whales (June/July)
Mantas (Dec-Mar)
Specialist courses onboard.
Onboard photogaphic services and courses.
Specialist Rebreather facilities.
Great White Shark Expeditions.
Minke Whale Expeditions
Extension tours of Australia.