2020 - 2021 Scuba Diving Holidays, Liveaboards and Learn to Dive Courses to the Maldives, Red Sea, Canary Islands, Far East, Caribbean and the Pacific.
Bali Dive Centre Alam Anda - Bali, Far East & Australia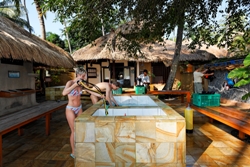 The dive centre in Bali offers PADI, SSI & CMAS instruction courses. The centre is located 50m from the shore front, within the 4* Bali Alam Anda Dive Resort and Spa in Sambirenten/Tulamben in the north of Bali.

As well as offering daily boat diving excursions, there is an excellent house reef perfect for all levels and photographers.


Location
The centre is 50m from the entry point set within the Alam Anda Dive Resort and Spa with spacious area for kiting up, rinsing and storing equipment with seating areas, the pool, restaurant and bar areas directly adjacent.


Facilities
The centre has a wide range of equipment for hire from leading manufacturers including 2 digital underwater cameras. They have approximately 120 aluminium tanks (12 litre, DIN + INT) plus 6, 10 and 15 litre tanks filled from a Bauer compressor. The staff will attend to your every need including assisting with setting up your equipment, carrying it to and from the entry or exit points (should you require) and well equipped workshops are available to guests. The dive boats and cars used for diving excursions around the island are equipped with oxygen, emergency first aid kit and a mobile phone. A doctor, who specialises in diving medicine and who supervises the decompression chamber, is based in Denpasar.


Diving
The centre has one 10m dive boat and there is the choice of shore diving off the beach or a large variety of boat diving sites. Local dive spots can be reached within 20 minutes and spectacular sites around Bali are 20 to 60 minutes away in one of the centre's small buses. Diving excursions to Tulamben, Angels Canyon, Coral Stairs, Kuba, Amed or Gili Selang and Batu Karang depart around 5.30 and 6.30 am so you can be back in the resort from 2-3pm. Alternatively, Kula or Tulamben can be offered as 1/2 day one dive trips departing at 9am and returning at 4.30pm. The house reef is ideal for underwater photographers with diving depths of approximately 6m for 50 meters away from the beach. These gentle conditions are also ideal for novice or learn to dive courses. Nitrox is available FREE of charge for certified divers.


Dive Courses
Dive courses generally take between 3-4 days. Most mornings and afternoons are spent in the water in small groups with your instructor. Theory elements take approximately 6 hours between 5.30 and 7.30pm on consecutive days. After passing the required assessments, you will receive an internationally recognised SSI Open Water Diver certificate. SSI Advanced, DiveCon, CMAS Gold and PADI Divemaster are available on request for experienced divers along with the majority of specialist courses.
DIVE INSTRUCTION


Price
from

SSI Open Water

£360

SSI Advanced Adventurer

£300
Courses include loan of equipment and text books. Nitrox, Open & advanced OW courses have an additional certification fee of around €38.50 which is payable locally. The centre also offers a 1 hour try dive session in shallow water, on the house reef. PADI courses are available for which you are required to buy the official course book plus a certification fee of €50, which is payable locally.


Dive Packages
Dive packages include tank & weights and porter. Day trips also include lunch box, soft drinks & water. Dives by mini bus or boat transfer to Angels Canyon, Coral Stairs, Batu Karang, Oasis, Out of Eden, Les Paradise, Tembok Reef, Benben Garden, Kubu Drop Off and Coral Garden, Tulamben wrecks (SS Liberty) are available. For dives from Tulamben to Batu Kelebit, an additional charge of €11 will be charged locally for the boat trip. For night dives at the SS Liberty an additional charge of €16.50 is payable locally. A local charge of €0.66 per tank is payable locally.
DIVE PACKAGES


Price
from

5 Days (10 Dives)

£350

10 Days (20 Dives)

£670

5 Days Non Limit Unguided House Reef

£260
FREE 30 minute Santai massage per stay for dive package in the Spa.
Gallery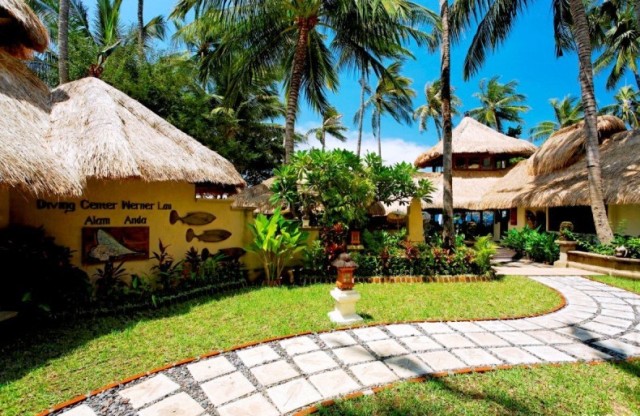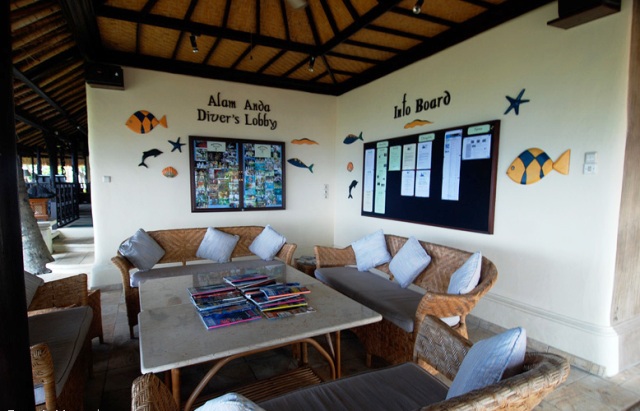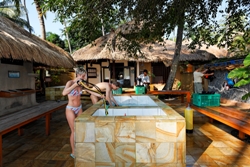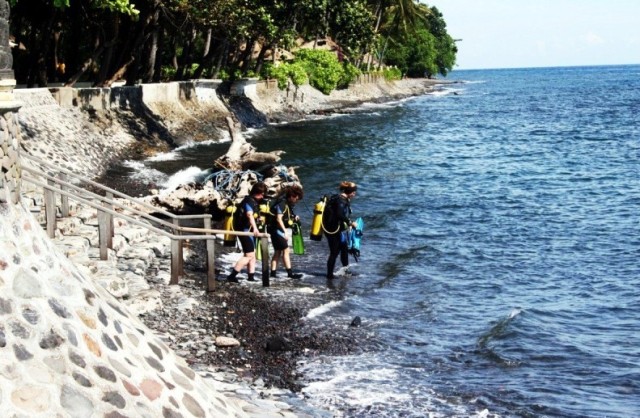 Fact File
Best Time: April - October with peak season June - September.

Average Air temps: 30°C

Average Water temps: 27-28°C

Visibility: 15-30m

Top Dive Sites: Angels Canyon, Kubu, Nusa Penida, Secret Garden, Menjangan Mar, Coral Stairs, Batu Karang, Oasis, Out of Eden, Les Paradise, Tembok Reef, Benben Garden, Kubu Drop Off and Coral Garden, Tulamben wreck (SS Liberty).

Great Reasons to Dive in Bali

Fantastic diving experience for all levels of diver.
Luxury dive resorts.
USS 'Liberty' Wreck in Tulamben.
Walls, reefs, caves.
Large pelagics, Mola Mola & whale shark in season.
World Class critter diving.
Excellent photography conditions.
Balinese cultural experience.